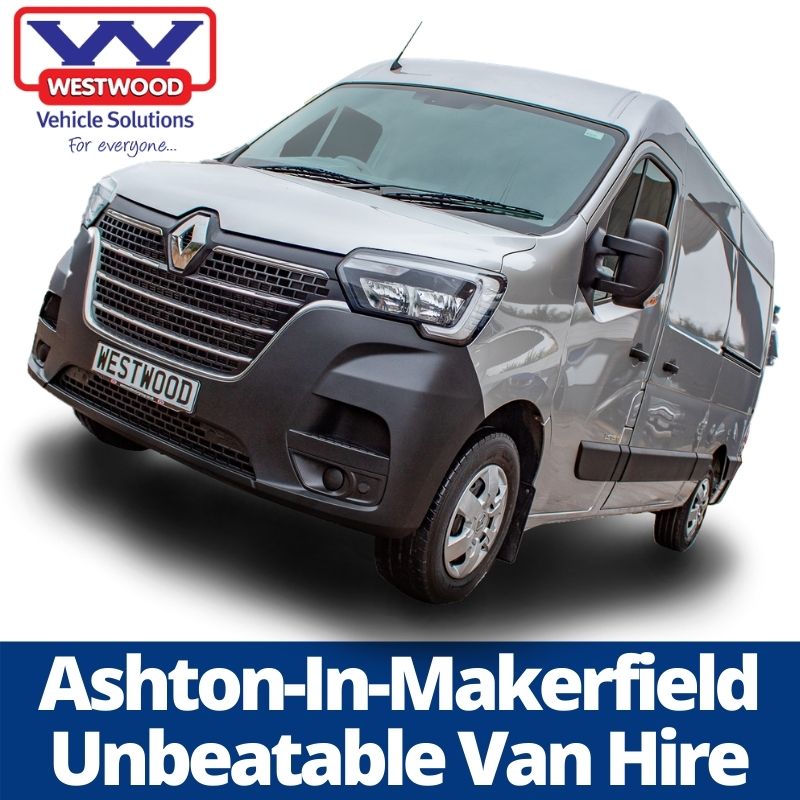 The Best Van Hire In Ashton In Makerfield – Cheap Vans For Hire
If you're looking for van hire in Ashton in Makerfield, don't pay too much, or settle for an older van, give us a call instead and get yourself a range topping rental van that'll be the envy of your competitors, for far less than they're paying for theirs!
We amongst the largest van hire companies in the North West with around 2000 vehicles in group stock. Around 200 rental vehicles of them are available at any one time from our extensive head office, sales pitch and compound within easy reach of Ashton in Makerfield.
We're easy to get to via the motorway network, by bus, or by train. You can even get here by canal if you prefer and no matter what your vehicle hire needs are, we can have a rental van ready for you to drive away today. We're not like many of the large chains, who boast large fleets, but only have a handful on site, or advertise eye-catching deals which never seem to be available when you arrive at the counter to take advantage of them. We've built our business on simple, honest, great value and taking pride in offering an unbeatable service.
The quality of our car and van hire fleet speaks for itself. We don't buy in base level cars or vans to add to our rental fleet; a Westwood vehicle, whether it's for sale or for hire, will always be a high specification, upgraded, or top of the range model. Rental vehicles will usually be either new or less than 12 months old, with the vast number of our cars and vans for sale being only slightly older. While it's common to see two, three, or even four year old rental vans on the road, you'll never see our livery on anything older than a year!
Feel free to compare this with our competitors. We're not just cheaper, we provide far better vehicles for hire too!
Westwood are able to offer such low prices because we're not mere brokers – everything we advertise is here, owned by us and ready to go. Which is why you can hire a van and drive it away for the prices we advertise.
You won't find a better selection of vehicles for van Hire in Ashton In Makerfield or anywhere else. Whatever you need, we've got the lot and in certain circumstance, we can also deliver locally or Nationally, just ask us for details.
Car Hire, Van Hire & Vehicle Services From Westwood Motor Group
Booking van hire in Ashton In Makerfield couldn't be easier, we have a number of rental solutions to help you get the best van for your business and the most cost effective way to get you behind the wheel of it. You can drive away safe in the knowledge that you've got an unbeatable van hire deal.
When you only need to hire a van for a day, or just a few days, this is likely to be the best option for you. Quick, easy and convenient, this is the simplest way to arrange short term van hire.
You might already have seen our competitors offering a similar product to our 'Flex-it 28' flexible van hire product. Something we created which has been imitated time and time again.. but never bettered! Flexible van hire gives you the best of both worlds – combining the simplicity and convenience of daily hire with much of the value of contract hire. Flex-it 28 is a rolling service without contracts, where you commit to hire a vehicle for just 28 days and at the end of that period, you can choose to either continue the hire for another 28, or hand the keys back with no other commitment or ongoing costs.
The lowest cost per day, typically running for at least a year. This option is the best value for customers looking to stay in their vehicles for an extended period.
Need A Car or Van? Look no Further For Quality, Value and Service
We offer small vans, large vans, long wheelbase vans, as well as crew-cabs, flatbeds and tippers. All the vehicles we advertise are owned by us, so you can be sure that the vans for hire we list are really here, rather than being unobtainable deals that are only displayed to entice you in, but are never really available.
Accidents happen and if you're unfortunate enough to get caught up in one, you'll be reassured to know that we don't hold you over barrel. If you're unlucky enough to be involved in a collision or if your van is damaged while out on hire, we don't automatically help ourselves to the entire deposit.
We're unusual in that we only charge vehicle repairs out at what they cost us to put right and with our own onsite workshop, full time mechanics on staff and good relationships with external repairers our costs are extremely low. If it'll buff out, you won't be billed – just part of our commitment to treating our customers fairly.
Whatever your needs, large or small, call our friendly team and we'll be delighted to find the right van for the right price and help you drive away today in a vehicle that meets your needs and your budget. Wigan Van Hire St Helens Van Hire Warrington Van Hire Chorley Van Hire