The latest rules regarding using a mobile phone while driving come into force on the 25th of March 2022 and various media sites are awash with clickbaity headlines and scare stories to get you to visit their websites and wade through a pile of irrelevant fluff and annoying ads, leaving you non the wiser.

To save your confusion and to give a concise interpretation of what the changes are in relation to using a mobile phone while driving, we've done the reading and searching for you. We can't rent a car or van to anyone with over six points on their license, so we'd rather help you keep yours clean! – read on for the detail!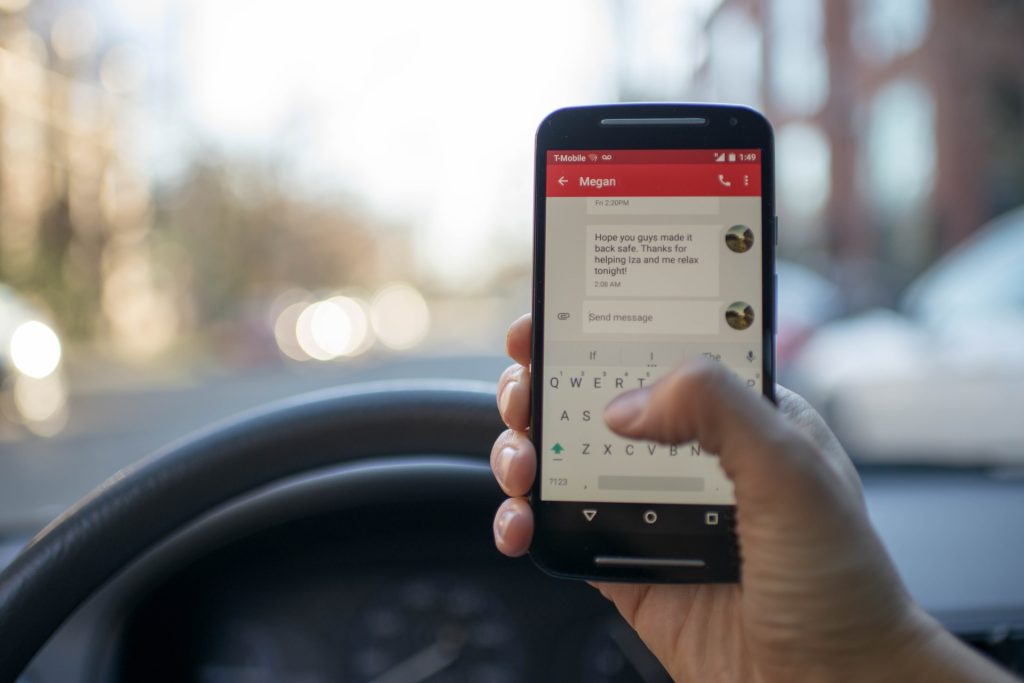 Wasn't using a mobile at the wheel banned already? Why The Change?
Cars have been around for around a century, but portable telephones have only been around for about a quarter of that time. Both have undergone rapid changes since their introduction and the law has been a bit slow to keep up.

The oldest rules relating to using a mobile phone while driving came in in 1986 and specifically banned using a handheld device capable of interactive communication for interactive communication while driving. Cast you mind back to 1986 (if you can). Mobile phones back then could make and receive phone calls, later they could send and receive text messages, but that was it. From around 2003, phones started to be able to access the internet in a rudimentary way and features like cameras etc started to be added. The rules were updated periodically over the following years to where they are today; Using a hand-held device for 'interactive communication' attracts a minimum £200 fine and a 6 point penalty.

However, phones today are more than just phones. In fact calling and texting in many cases are minor features of these all encompassing devices. The law for example, doesn't specifically ban the use of a device if it's not actually being used to communicate or if it's not being held in the hand while being used. So using it as a camera or as a video wouldn't come under the 2003 rules, nor would jabbing away at the screen if it's held in a dash mounted cradle. Potentially either could be considered distracted driving or driving without due care and attention, depending on the circumstances, but they aren't explicitly banned.

Add to this, phones are frequently used as navigation devices, can be used hands free when mounted in the aforementioned cradles or integrated directly with vehicle systems, muddying the water and making it clear that the law relating to their use needed bringing up to date.

It's worth pointing out that 'Driving' in this context, and in practice, means any time when you're behind the wheel (or supervising a learner driver) and not safely parked. So if, for example, you're stationary at traffic lights/in a queue, or pulled over with the ignition on, that's still 'driving' and you could still attract the penalty. Hence all those clickbait news articles you see about being potentially fined £200 for paying for a McDonald's with your phone.

So What Are The New Rules About Mobile Phone Use When Driving?
From the 25th of March 2022, the new rules relating to mobile phone use when driving come into force. They don't much change the original 1986 offence or the current points and fine that the offence will incur. The changes are simply to expand the scope of what's covered by the law, to clarify what devices are covered and to specify what counts as 'use' in the context of the law.

If a driver holds and uses a device which is capable of being used for interactive communication, then they commit the offence, even if they don't actually use it for communication. 'Using the device' therefore could (and does) include simply illuminating the screen or checking the time. Naturally any other interaction with the device while held in your hand counts as 'use' also.
Use of the phone as a Sat-Nav is already exempted from the rules and will remain exempt, however the device mustn't be held in the hand when so used.
A new exemption to the rules will be added to allow phones to be used as payment devices (such as paying for those 'drive through takeaways') without falling foul of the law.

Simply put, don't start your vehicle until your mobile device is either switched off, put away, or set up for hands free use!