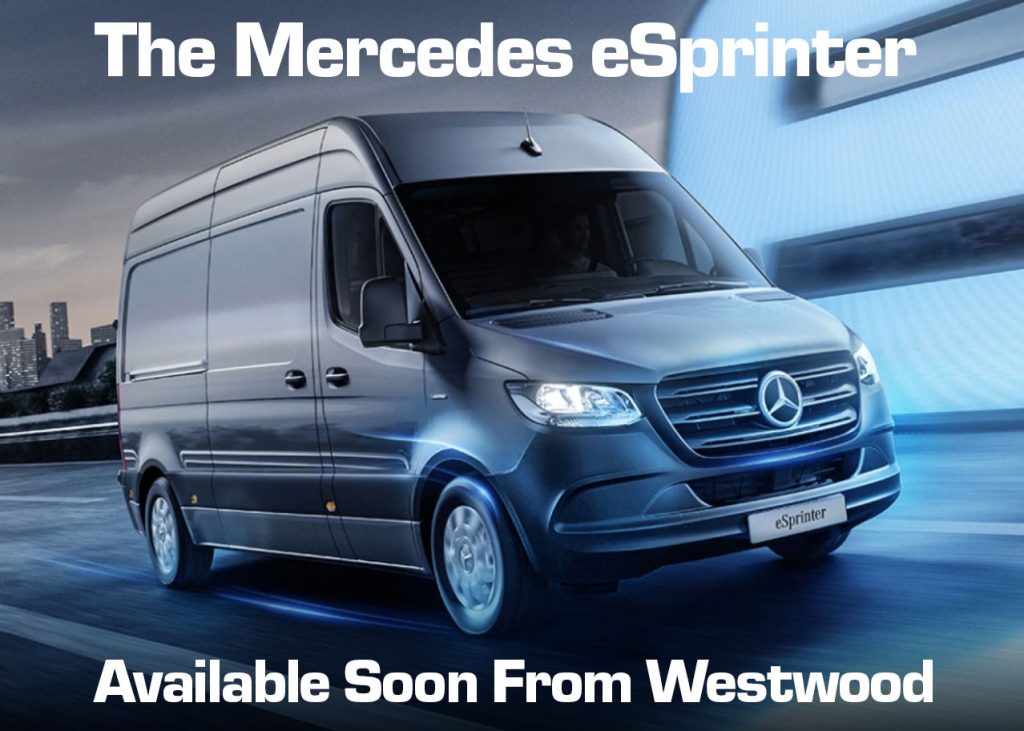 Coming Soon – The All Electric Mercedes eSprinter
At Westwood, we're always at the cutting edge of motoring and there's no doubt that the future of motoring, where electric vehicles are the norm, is only just around the corner. In recent years, we've invested heavily in the electric future of motoring, with hybrid and electric vehicle hire already available. The newly announced Mercedes eSprinter is, therefore, just the latest in an extensive range of electric vehicles available to hire right here at Westwood.
From the outside, there's very little to distinguish the Mercedes eSprinter from the L2 H2 version of the regular Sprinter. When it comes to payload, the internal dimensions are identical, although it has to be said that the weight of the battery beneath the floor does slightly reduce the cargo weight you're able to carry. This is unlikely to concern you if you're a courier driver transporting boxes filled with mostly air, you'll probably never get anywhere near the 774kg cargo weight limit!
Otherwise, this is the same Mercedes Sprinter that you're accustomed to, with the same quality, refinement and brand image you'd expect from any vehicle bearing the 3 pointed star. Of course, being a Westwood vehicle, you can rely on us to add the pick of the extra features, to give your business a far better van, for far less money.
Multidrop drivers are likely to love the new Electric Mercedes. It has the size and the space to pack with parcels, but with instant torque, no gears to change and easy, quick acceleration, the eSprinter is an absolute gift for those who do the kind of start/stop driving common amongst couriers. Your residential customers are also likely to appreciate silent, emission free deliveries – a great USP if you're filling your delivery fleet with electric vans!
As well as having the convenience of being able to drive away a fully charged van from your depot, (eliminating the cost of time spent filling up a fuel tank), the vans can be set to 'precondition' while they're on charge. So that in the morning, they're not just topped up with power, but the cabin temperature is set how the drivers like it, the windscreen defrosted etc. This saves using battery power on conveniences, but also gives your drivers a great start to the day which they'll no doubt appreciate. Insulated windscreens help keep the cab at that temperature too.
Should I Hire An Electric Van Like The eSprinter?
The ban on the sale of petrol and diesel vehicles is still a fair few years in the future, but it'll be here sooner than you think. At Westwood, we're embracing the opportunities presented by electrification and with the latest electric vans for hire we have on the way, maybe you should too! The Mercedes eSprinter is one of the largest electric vans currently available and on the surface, simply removes the diesel powerplant from the excellent Sprinter and switches in a battery. This brings with it a number of environmental advantages, such as as reducing exhaust emissions to zero and replacing the noisy classer of a diesel engine with the faint hum of an electric motor, but as a commercial vehicle, these are 'nice to have', but a working vehicle has to make sense financially. So here's the case!
The eSprinter Helps You Save Money
Firstly, range anxiety isn't quite the problem you might, at first, think it is. With petrol and diesel vehicles, we're well accustomed to getting a few hundred miles out of a tank of fuel. It's true that electric vehicles simply can't match that mileage on a single charge right now. Consider though, that charging electric vehicles can be done at your premises overnight, or in as little as 30 minutes at a fast charging station while you're having a coffee. At a fraction of the cost and the range 'issue' isn't really problem at all!
The Mercedes eSprinter, according to official WLTP combined figures, should achieve around 96 miles on a full charge. This doesn't sound like much compared to a few hundred miles from a tank of fuel, but how often do you fill up your van? How many miles do you typically travel in a day?
If you do the maths, 96 miles a day, five days a week, 50 weeks a year is 24,000 miles annually. If you do less than that (typically most of the regular Sprinters we hire out do less than half that), so long as you plug your eSprinter when it's parked up overnight, you'll probably never have to worry about running empty and will certainly never have to queue up in a smelly petrol station again.
Consider that mileage though. The combined 21 mpg of a regular Sprinter, over 24,000 miles would be roughly 5189 litres of fuel. At £1.15 a litre, that's £5,967.35. Given that the eSprinter should cost around £9.00 to fully charge, that's only £2,250 to cover the same distance. £0.25 per mile vs. £0.09 per mile. In fuel alone, based on that calculation, the eSprinter could save you over £309 per month versus the regular Sprinter. That'd cover a significant portion of the van hire cost by itself!
An Electric Van Could Save You Even More In The City
If you happen to live in or around London, then we probably don't have to tell you about the savings to be had with an electric vehicle. Thanks to the ULEZ (Ultra low emissions zone) and the Congestion Charge, you'll be painfully aware how massively expensive it is to run a petrol or diesel vehicle around the Capital. In fact, you probably didn't read this far down, we already had you at "Electric Van Hire"! For everyone else, we'll point out that this is because electric vans are exempt from both fees. Depending on your existing usage, driving an eSprinter rather than a regular Sprinter, could easily, when the fuel savings are factored in, save you more money than it costs to hire it from us! Essentially what you have then is a free van!
Even if you work outside of London, it pays to keep an eye on the future. The UK is fairly unusual in having only one city with extra charges for congestion and emissions. Around Europe, it's increasingly common to have such charges in and around cities and even large towns. Already, Birmingham is eyeing up following suit and Manchester isn't too far behind. Hiring an electric van like the eSprinter is a fairly sure way to insulate your business against these future costs and keep your business overheads down.
Get In Touch Now And Build Your Electric Van Fleet With Westwood
Naturally, whether it's electric van hire or just regular van hire, you know that the best deals and the best vehicles are right here at Westwood. Better still, we don't just advertise great prices, we have real vehicles here you can actually drive away at those prices!
With a dedicated fleet team, your own Business Manager to look after you and our unrivalled range of upgraded and high specification vehicles, why continue to pay more for less elsewhere? Look no further than Westwood for a fleet partner for your business!