Help Us Support Wigan Charities By Putting Our Matt On Your Wall!
As 2021 drew to a close, we called an end of year 'business meeting' in which Secret Santa happened to pay a visit (which was definitely not a party – we have assurances that all rules were followed).

For many people and for many reasons it's been a tough year, but as a team we've worked together and made it through, we've supported all the businesses that rely on us to get the rental vehicles they need, we've also been able to support some wonderful causes over the course of the year. However, as we gathered as a team for one last time, one member of the team put a little EXTRA effort into his Secret Santa 'gift'.

A few months ago, our Very own Sales and Rental Executive, Matthew Fairhurst, joked that depending on who he got for Secret Santa, he might make a 'special' Chippendale inspired Westwood Motor Group Calendar, starring himself……. and very little else.
The idea might have just been a throwaway comment, but it was at the point he was told 'You'd never have the guts to do that!' the idea was cemented and our General Manager Kate got more from Secret Santa than she was expecting!

Matt volunteered for Saturday shifts, dodging cameras and capturing cheeky shots all around Westwood HQ and his reward turned out to be far more than just the look on Kate's face when she opened her 'special calendar'.

When our MD Chris Melling found out about what Matt had got up to, you might have imagined there would have been a dressing down after all that undressing, however, Chris not only saw the funny side, but also saw an opportunity, with Matt's permission, to arrange a print run of Matt's calendar and to use it to raise some funds for some good local causes.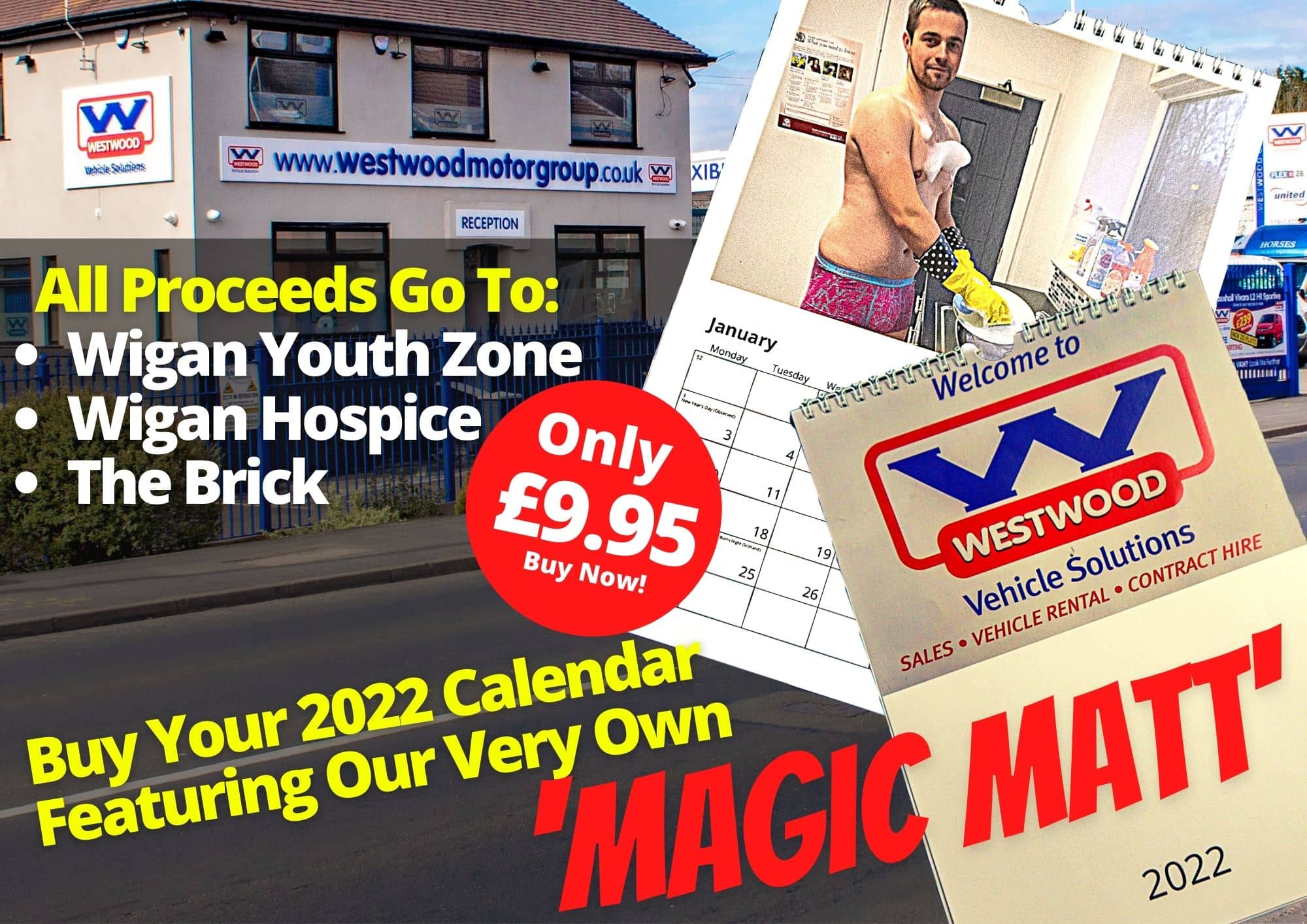 Help Us (And Magic Matt) Raise Some Funds For Some Good Causes
It is with great pride and more than a little amusement, that we announce that the 2022 Westwood Motor Group Calendar is available to order, for just £9.95 and is on the way to the printers right now, with delivery expected on the 4th of January!
We're covering the production costs and all of the proceeds from the sale of the calendar will go direct to three of our favourite charities;
Wigan Youth Zone
Wigan Hospice
The Brick
We're proud to support these good causes all year round, but with your help (and Matt's), we can raise some more money, raise some smiles and maybe an eyebrow or two all in aid of some truly wonderful organisations.

Please dig deep, please share and please make sure you bring your calendars to our Wigan branch and ask for 'Magic Matt' to autograph it for you or take a selfie with you for a minimum £1 donation to the above!

We'd like to take this opportunity to thank all of our team, all of our customers and everyone else who has helped us, done business with us and joined us on the journey through 2021. We're looking forward to a great 2022 and we guarantee, with Matt's calendar on your wall, it'll definitely be worth the look!



"You'll DEFINITELY want to see February through to December, Believe you me!"


Chris Melling – Managing Director