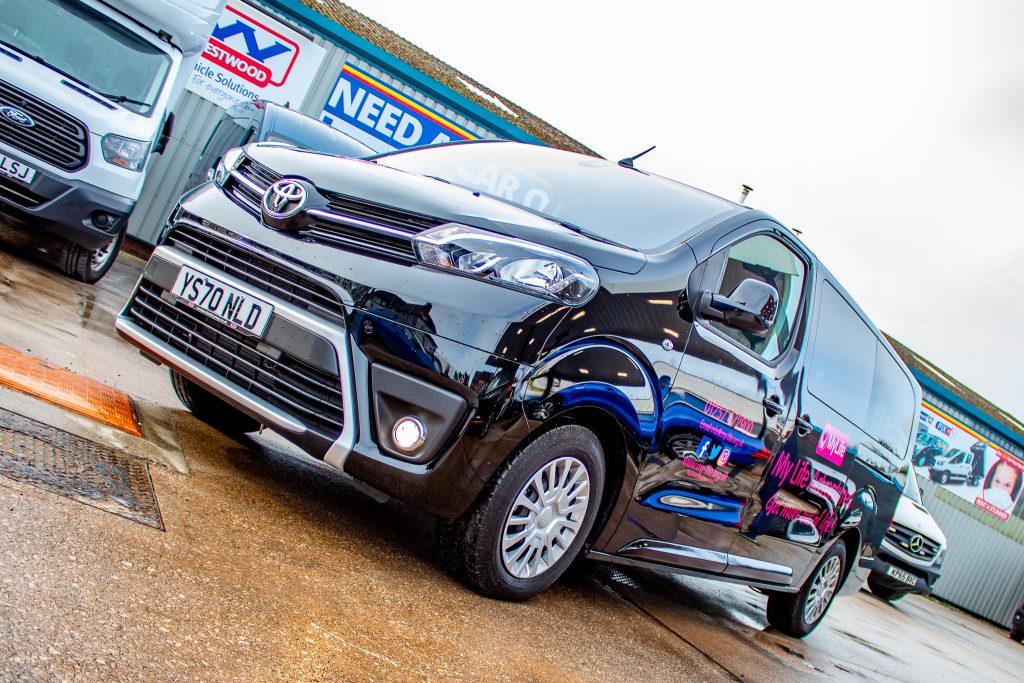 It was with great pleasure that we welcomed Berni and Rachel from local charity MyLife, here today to swap the 9 seat minibus we'd previously supplied, for this shiny brand new one (did you know we can arrange minibus hire as well as van hire?).
With the black privacy glass this might look from the outside like a normal van, but in fact it's a Toyota ProAce Verso 9 seat minibus, we've supplied it complete with Mylife's own distinctive graphics, a towbar and durable seat covers. All part of the Westwood service, so all the ladies needed to do was drive it away!
Rachel and Berni are pictured here receiving the keys to their new minibus from our very own Business Manager; Adam.
Who Are Mylife?
A highly innovative charity, MyLife is based locally, primarily serves the Northwest, bit has members all over the country. The aim of this worthy organisation is the provide bespoke assistance to people who find themselves, for whatever reason, unable to fully engage with the communities in which they live. This could be due to ill health, disability, difficulties in learning, age related issues or metal health challenges etc.
With a stated aim of providing 'A hand up, not a hand out', MyLife is open to all and aims to maximise independence and inclusion by providing personalised support to individuals. This enables and empowers them to chart their own path, forge their own destiny and live a good life, by providing a helping hand where it's needed. Whether that's through direct hands on support, advice, advocacy, education, providing social opportunities or any other kind of help.
Most importantly, the services MyLife provide aren't a one size fits all approach, instead service users are catered for as individuals and are able to choose for themselves what they need, rather than settling for what someone else decides to provide for them. Choice, personal agency and self determination being key.
You can CLICK HERE to visit MyLife's website and find out more about the wonderful work this incredible charity does and maybe get involved if you're able to volunteer. It's an absolute privilege to provide a vehicle to a charity like MyLife and we wish them many happy miles as they bring opportunities and fulfilment to the people whose lives they enrich.