Wigan Warriors Rugby League Club need absolutely no introduction. A deservedly world famous, home grown rugby league club with local origins dating back to 1872, Wigan Warriors are an integral part of Wigan's proud sporting heritage and one of the highest profile local sports teams.
At Westwood, we're passionate about supporting local talent, from grassroots to professional and everything in between. So it's with great pride that we've agreed sponsorship of Wigan's Premiere Rugby League Club.
As part of this partnership, Westwood is thrilled to be sponsoring Wigan Warriors' kit van for both the the 2021 and 2022 season and we're very much looking forward to being involved with this incredible local club.
Today, we were delighted to deliver this fully wrapped Renault Trafic Sportive L2, a firm favourite with our van hire customers, to the Warrior's new Robin Park Arena training complex and business hub next to the DW Stadium. Here's our Business Manager Danny handing over this unique van to Wigan Warriors' Executive Director and Wigan Rugby Legend in his own right, Kris Radlinski.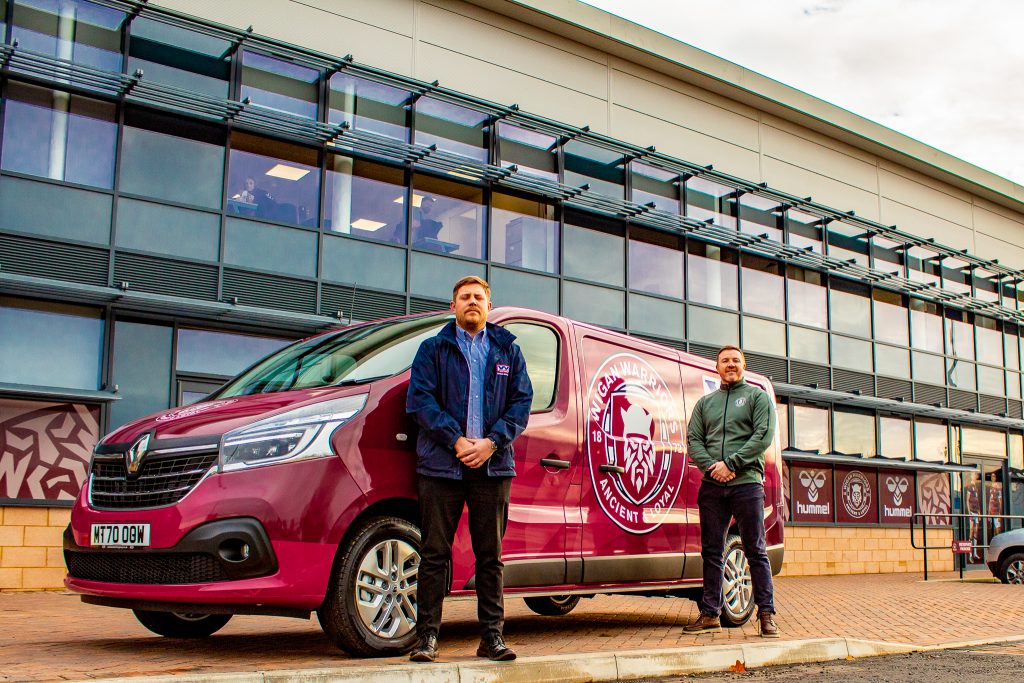 The Renault Trafic is a fantastic medium sized van perfectly suited to the task of transporting the team's kit, water bottles and training equipment. As well as providing a great experience for the driver and passengers even on long journeys to away games thanks to the high-tech' modern comforts in the cabin.
This particular van has been fully wrapped in Wigan Warriors' distinctive and newly updated livery by our good friends at Pinnacle Signs who've done an incredible job in helping us give Wigan's proud rugby ream the kit van they richly deserve. (click the play button below to see the van wrapping process).
No doubt you'll have no difficulty spotting this eye-catching van around Wigan and at all of the Warriors away games!