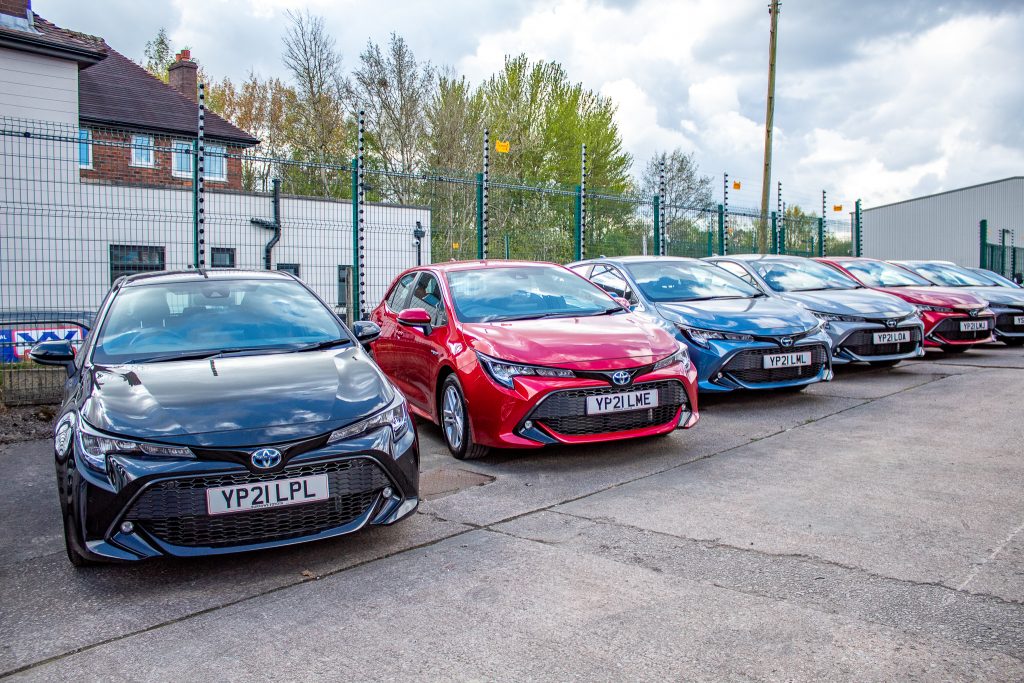 If you're looking for either personal or company car hire in Bolton or Wigan, that makes great financial sense without feeling like a compromise, you'd do very well to consider the all new Toyota Corolla Hybrid.
The Toyota Corolla has been a mainstay of the Japanese manufacturer's product range for some time and in number of guises. The very latest version is a mid sized hatchback (also available as an estate) which mixes a super efficient petrol engine, made all the more efficient by being melded with a battery and electric motor.
The Toyota Corolla and Its Super Smart Self Charging Hybrid System
One of the best features of the new Toyota Corolla and its hybrid nature is that it's a perfect balance between petrol and electric power. With the advantages of both, but the disadvantages of neither.
For all intents and purposes, you can treat the Corolla like a regular petrol car. You drive it the same and fill it up the same. The electrical side of the car looks after itself so you don't need to plug it in. With a small battery and motor set up, the electrical system is capable of driving the car for a number of miles all by itself. The motor will also kick in to assist the petrol engine and add a little extra power under hard acceleration. The battery is charged automatically by recovering energy during braking or coasting. You don't need to think about it, but you'll notice the extra power when you need it and the reduced running cost as fuel efficiency is boosted (Up to 62.7mpg). All without having to invest in a home charger or wait for charge to be delivered via a cable.
This low mpg figure is just one of the ways the Toyota Corolla Hybrid saves you money. Increased efficiency means a lower Co2 figure which, when combined with being a hybrid and the advantages which come with that, this translates to attractive tax advantages as a company car. With the Corolla being pretty cheap on car hire as well, this all adds up to a great value vehicle whichever way you look at it.
What's The Toyota Corolla Hybrid Like?
Similar in size to the ubiquitous Ford Focus, the Corolla has benefitted from Toyota's earnest effort to steal the all conquering Ford's crown. Here at Westwood, we have a choice of three different versions. We have the hatchback and estate versions, both in 1.8 Icon Tech CVT spec' as well as the seriously sporty looking 2.0 GR-Sport version.
Whichever one you go for, you'll get a slick automatic (technically CVT) gearbox, front and back parking sensors, a rear reversing camera, cruise control, satellite navigation and a whole range of other features. All combined in a seriously good looking car that looks as good on the inside as it does outside.
The driving experience is impressive too. With responsive, engaging steering and plenty of feel, as well as numerous adjustments to settle yourself comfortably into the cockpit, it's amazing that Toyota have been able to put together a car this good at this low price point. The very definition of great value!
Click to see our Toyota Cars For Hire on Flexible Rental, other car hire options are also available so browns our site or get in touch for more details.
Take Out Hybrid Car Hire Today!
Great value is what we do here at Westwood, so it's no surprise you can arrange to drive this fantastic new Toyota in a range of car hire options. Whether you choose daily hire, flexible hire, fixed term hire or contract hire, we can build a package that's perfect for you and send you away with more cash in your pocket and a smile on your face.
Cut your costs and improve you image with Westwood. Today!