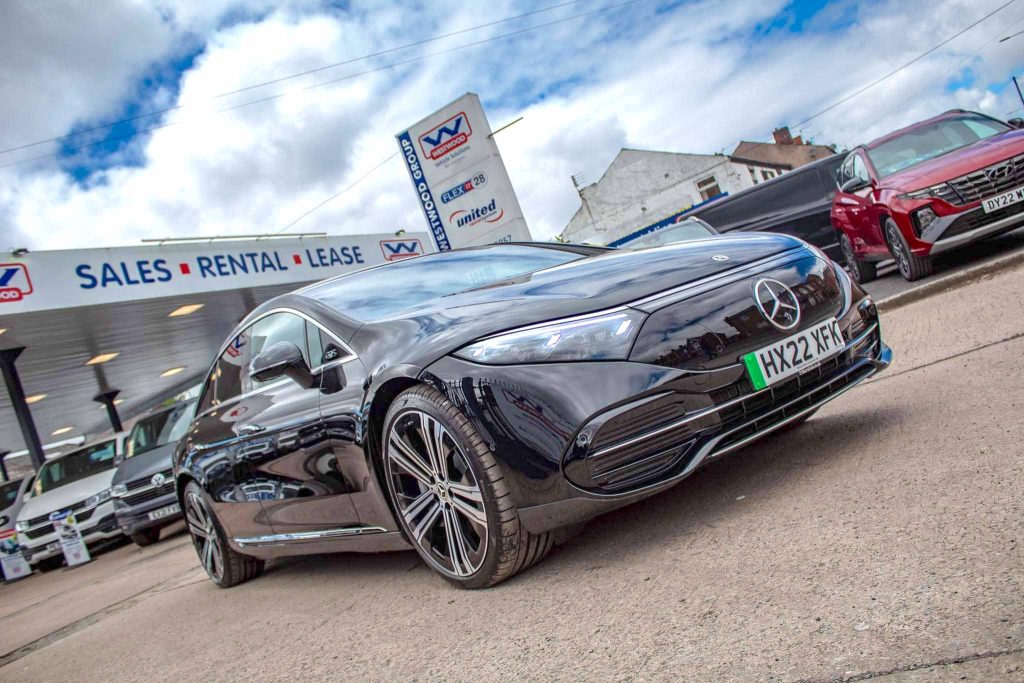 'Game changing' seems to be a somewhat trite and probably overused turn of phrase these days, but when it comes to the all new Mercedes EQS, game changing is also completely accurate and wholly justified. We've offered electric car hire and electric van hire for some time here at Westwood, so we recognise the EQS for what it is. A massive leap in BEV technology

Since the days of the first Mercedes S-Class, any 'S' Mercedes could be relied upon to include innovations and technology years ahead of its contemporaries, so the EQS was always going to follow suit. But to say it's completely lived up to and in some cases blown those expectations out of the water isn't just hyperbole!

The 'EQ' before the 'S' tells us that the latest super luxury Merc' is runs on battery power and the '450', it turns out, is the realistic number of miles it'll drive on a single charge (the 'actual' maximum is 483 miles). Yes, you read that right, the new electric 'S' has better range than ANY other electric car we know of. Not only that, but when you consider the regular petrol S-Class (winner of multiple luxury car of the year awards) returns between 21mpg and 30mpg from a 66 litre tank, a little maths tells us that's a maximum of 435 miles between fill ups. So in short, the electric version of the S-Class has BETTER range than the petrol version.

Of course it'll take longer to fill up, but if that's your retort then you're missing the point. If you're travelling over 400 miles, you're probably going to spend a while at your destination before heading back. Long enough to charge up your car! It'll cost far less than the £130 you'll currently spend in the regular 'S' too!

Just how long will that charge take though? It depends. Find a 'regular' 22kw fast charger (like you might have at work) and it'll take 10 hours to charge from flat to full. However, find an increasingly available 50kw rapid charger and you'll charge from empty to 80% in just 2 hours. Track down a 200kw rapid charger however and that time drops to 31 minutes. Would YOU need a 31 minute break after driving 400 miles? Yep, so would we!

For the rest of the time though, as is the advice for every other electric vehicle, treat your Mercedes EQS like your phone not your petrol/diesel car. What we mean by that, is DON'T run it until nearly empty and then fill up. Instead, top it up whenever you're not using it. You might have a charger at home, your favourite supermarket, your gym, your shopping centre, your office, or even built into a bollard or lamp-post. They're everywhere these days and when they're in a car park, quite often they're in bays reserved JUST for electric cars, which are frequently the best and most convenient spaces in the whole car park. Oh, many of them are FREE too. Why wouldn't you use them?
The Game Changing Tech' of The Mercedes EQS
So, what's the Mercedes EQS got? It'd be lazy writing to say 'everything', it'd be accurate though. Whatever your car has, the EQS has it and probably has it better. Whatever your car doesn't have, it probably has that too.

Does your car have ambient lighting? The EQS has it built into not only the doors, footwells and the dash, but also around the seats!
Does your car have heated and vented seats? The EQS has that as well as several different massage settings!

You get the idea! Whether sitting in the front or the back, this car has the kind of finish, attention to detail and luxury that makes flying first class seem like slumming it! The open pored, sumptulosly sculpted wood trims in the door and dash panels give a luxury cruise ship like feel, but thankfully, this big car is nowhere near barge-like when it comes to speed or handling. The surprisingly tight turning circle and a 0-60 of 6.2 seconds makes it positively brisk despite its size, but you probably won't want to smoke every pretender at the traffic lights, when you could waft around like Royalty instead.

All this is very nice, but what about the 'ahead of its time' stuff?

We've already mentioned the range. No other electric car we know of has anywhere near the range boasted by the Mercedes EQS. The rear wheel steering, which gives this EQS a similar turning circle to the A-Class is rare at the moment but not unique. No, the other 'mic drop' feature of the Electric S-Class is that it's the first car to come with full level 3 autonomous driving.
What is Level 3 Autonomous Driving?
The Society of Automotive Engineers have defined a grading system to outline the levels of automation in vehicles. This ranges from level zero (no automation at all) through to level 5 where no driver input or even presence is required. Levels 1, 2 and 2+ have been deemed 'driver assistance, levels 3 to 5 are true 'autonomous driving'.

The Mercedes EQS is the first car in the world to achieve level 3. Not even Tesla have made a car capable of this level of automation yet. Specifically though, level 3 autonomous driving is defined as 'Conditional Automation'. The driver can let the car take over and do all the driving, even taking hands off the steering wheel and eyes off the road, but the driver must still be ready to take control if asked to do so. If the driver doesn't take control, the vehicle can bring itself to a safe stop.

The legislation to allow the use of this incredible technology isn't, at the time of typing, quite ready yet (although it will be soon), but the moment it's permitted, you can allow your EQS to be your chauffeur. In the meantime, the same technology that monitors the driver for alertness is made use of to make your life easier. For example, when adjusting the wing mirrors, you don't have to tell the EQS which one you want to adjust, there's not even a switch it KNOWS which one you're looking at!
Renting a Luxury Electric Car – It Makes More Sense
There's no way to hide it, premium cars come with a larger price tag and electric vehicles typically cost a little more to buy in the first place. However, when you look beyond the purchase cost, there are massive savings to be had with any EV we to comes to running costs and tax advantages. There are still grants available for car chargers, electric vehicles only attract 1% Benefit In Kind company car tax (compare THAT to the BIK on a regular S-Class!), electric vehicles are also exempt from every known congestion charge and low emissions zone charge, either current or planned. Obviously, the cost per mile for electricity is a tiny fraction of the cost per mile for petrol or diesel and you can now add usable range in as little as half an hour if you find the right charger.

Add to this, the benefits of renting. Hiring an electric car completely removes the upfront cost of buying. Don't forget, that buying a vehicle, puts a large, rapidly depreciating asset on your business balance sheet, but when you hire an electric car or van, vehicle rental is a deductible expense, which your accountant will tell you, is very tax efficient indeed!

Truly, the only way to really appreciate just how good this game changing electric car is, is to try it for yourself. Can a car be premium AND budget, can you get luxury AND save money at the same time, can you get high-tech AND low cost? You can if you hire a Mercedes EQS from us!

Rent: It Makes More Sense!