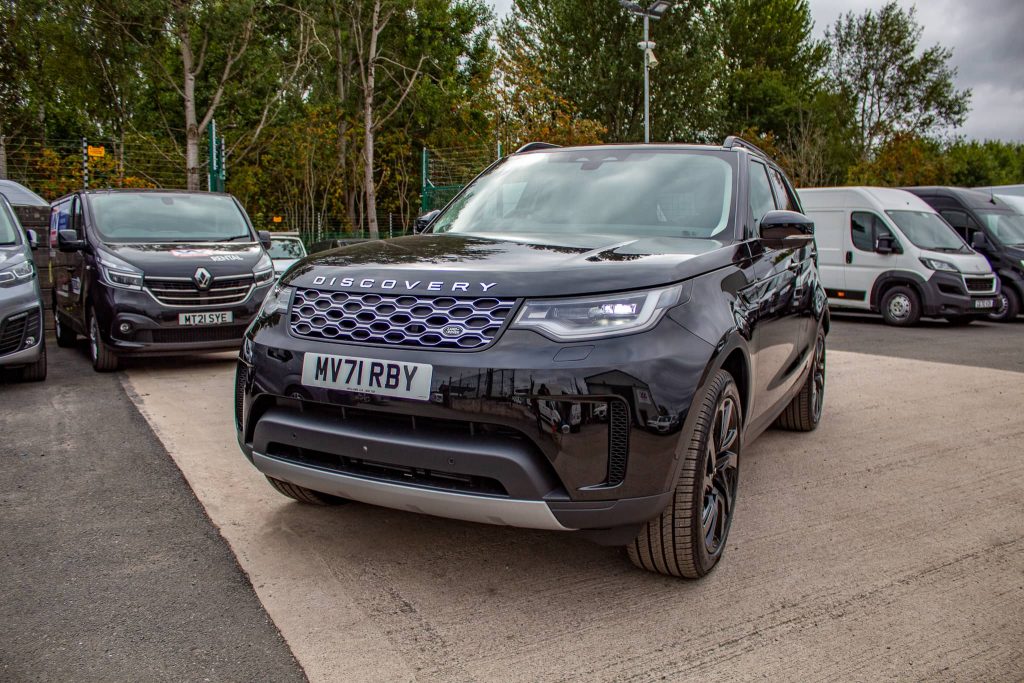 The Landrover Discovery Commercial is an odd beast. If you want to hire a van, pretty much anything will have more load space. If you want to hire a car, anything you choose will have more seats. In terms of price, the premium brand dictates that it'll probably cost more than either car or van hire in most cases. Based on that, it sounds like the Landrover Discovery Commercial is a mad idea that shouldn't work, but given that 1 in 4 Discoverys sold are the Commercial version, clearly there's something that makes it an attractive option. So why is this SUV so incredibly popular?
The Landrover Discovery Commercial – Why Does It Work?
It's got a premium badge and from the outside looks like a regular Land Rover Discovery. It's essentially a 'stealth van'. The back seats have been removed and replaced with a sturdy load liner. The rear doors are still present, but the 'privacy' glass is merely for show, stuck over the top of a steel panel. What used to be the rear footwell is now a cubby with a door accessible from the side. That's pretty much it. There's a dog cage-style grille separating the front seats from the back, but otherwise, this is just a regular Land Rover Discovery.
This is no bad thing – after all, there's nothing 'regular' about the Land Rover Discovery. Up front there's virtually nothing to separate the two versions of the Disco'. You have a premium cockpit with all the luxury options you'd expect from such a prestige brand. Leather, multi-adjustable seats, a class leading infotainment system featuring the cutting edge pivi-pro system and all the other bells and whistles you'd get in the passenger version.
It's a Land Rover, so naturally, it's as good off the road as it is on it, even if the vast majority of green badged beasties will never see terrain more challenging than a mildly muddy puddle.
Brand Appeal and The Tax Man – The Secret Weapons Of The LandRover Discovery Commercial
If you want to drive a premium SUV, like the regular Land Rover Discovery, it'll cost you. They're pricey to buy, pricey to run and pricey to tax. But the LandRover Discovery Commercial ignores that last part thanks to its official status as a commercial vehicle. As anyone who drives a prestige car knows, the tax-man is constantly riding your coat-tails all the way to the bank, but when your prestige car is 'officially' classed as a van, it sits right in an HMRC blind spot despite being almost entirely the same vehicle and attracts a fraction of the tax liability as a result.
Despite the tax-man thinking it's a van, visually, it's still a premium SUV – a large, sleek-looking prestige car with kerb appeal and brand appeal. The fact that you quite legitimately pay far, far less for it on your tax return is between you and HMRC.
Benefit in Kind Tax – As a 'van' BIK is fixed at £3,500, 20% taxpayers will pay £700 a year, 40% taxpayers pay £1,400.
Road Tax (yes, we know it's called Vehicle Excise Duty) – Flat rate for vans fixed at £275 per year.
Van Fuel Benefit Charge – 20% taxpayers £133.80 per year, 40% taypayers £267.60 per year – only payable if the company regularly pays for fuel used privately.
Compare this with the same taxes and benefit charges you'd pay for a regular Discovery and all of a sudden you'll realise why the commercial version is so popular! Essentially, if you're a white collar worker with a company car budget, or a business owner, looking to make the most out of your vehicle spending, you'll get far more for your money with a Land Rover Discovery Commercial, simply because you'll save hundreds a month thanks to its status as a van. It'll look just as great parked on the company car park, or outside your house, or when visiting clients. Your neighbors and colleagues will think you got a promotion, but you're simply being smart and getting the prestige experience without the prestige tax bill!
Naturally, for professionals and consultants who are called upon to do the occasional site visit, but still want a superbly luxurious driving experience, even if they have to throw a bit of equipment in the back, the Commercial Discovery is a perfect choice! Especially as tool thieves probably won't be targeting what looks like a car when it's parked on a building site.
Prestige Car Hire That's Taxed Like A Van
At Westwood, we're experts in both car and van hire, so that goes double when we have a vehicle that's a bit of both. You can hire the LandRover Discovery Commercial on a rental deal that suits the needs of you and your business and save a fortune on our flexible hire or contract hire deals.
Combine the savings from us and from the tax-man and you have a cracking deal on a brand new prestige car that just happens to be a super prestige van as well!
What could be better way of cutting your costs and improving your image!