Small Yet Punchy – The Kia Picanto GT-Line
Just updated for 2020, the NEW Kia Picanto GT-Line is a small city car that's as surprising as it is smile-inducing and we've just had the very latest version of Kia's incredible small hatchback delivered to our head office in Wigan. The Picanto is a tiny terror in the best possible way. If Batman drove a small city car, it'd probably look like one of these. It's no wonder the Picanto has always been such a hit with our small car hire customers and this newly updated model is better than ever!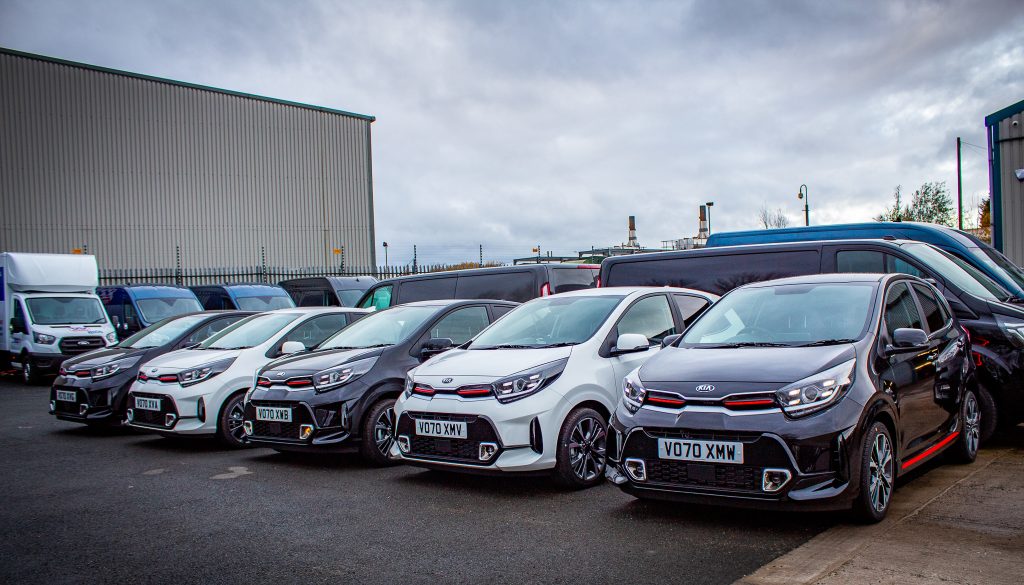 On the outside, the plucky little Kia isn't afraid to make itself seen. The upgraded design features of the GT-Line trim give the Picanto even more visual shoutiness and the big wheels, extra body kit, new grille and contrast colours all combine to give the punchy Picanto tremendous road presence.
The daytime running lights, front and rear, bright red accents, 16″ Alloy wheels and eye-catching styling details make the exterior of the Picanto grab attention and turn heads as it goes. Check out the video below of the Picanto's we had available in 2019, there were nice enough, but as you can see, the latest model looks even more stylish!
It's Only Small On The Outside – City Car Hire
The Interior of the Picanto needs to be seen to be truly appreciated. It has an almost unbelievable level of kit and a surprising amount of space for a car this size and once again, the 2020 version of the Picanto improves on the previous version. It's amazing how much Kia have packed in and even the big saloons from Germany don't always have the kind of equipment boasted by the new GT-Line.
You want smart leather look seats with contrast panels and stitching? You want reverse sensors and a reverse camera? You Want a 8″ Touchscreen (larger than last year's Picanto) with Apple Carplay/Android Auto and DAB? You want numerous safety features like lane keeping assist, pedestrian detection, emergency automatic braking to name but a few. The Kia Picanto GT-Line has all of this and more! The new Picanto is also one of the first cars to feature Kia's Phase II UVO Connect telematics, allowing you a range of features accessible via your smartphone!
With enough headroom to give four, 6 foot adults plenty of space and a door each, you won't be getting complaints of claustrophobia from your passengers as you nimbly thread your way through the City traffic and squeeze into the smallest of parking spaces. There IS middle seat if your rear seat passengers don't mind getting cosy!
The willing engine had a bit of pleasant rumble to it and feels a whole lot more powerful than it really is. It'll make you smile as you put your foot down and the precise steering and lack of body roll on the corners means that it's plenty of fun to throw at bends in the road, either around town or on winding country lanes.
2020 Kia Picanto GT-Line – Car Hire In Wigan
The GT-Line version of the 2020 Kia Picanto is still, we feel the best version of this superpopular city car and provides a fantastic ride, unbelievable features and at approaching 60mpg, it's a perfect option of you're looking for cheap car hire without compromising on style or quality.
Available here at Westwood in Wigan for less than you'll find anywhere and ready to drive today, look no further for a small car that'll make you smile.