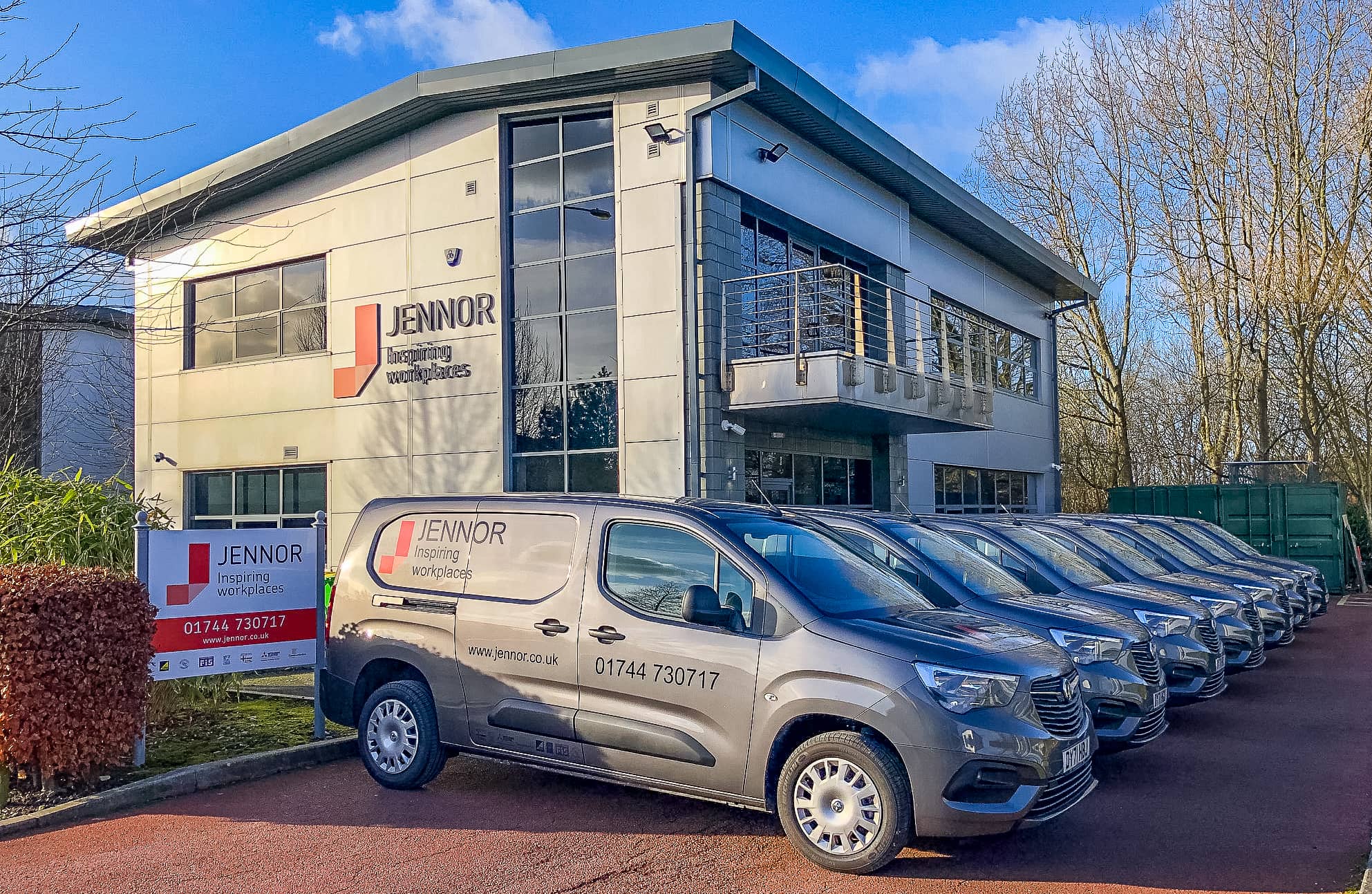 Jennor Ltd is a name you might recognise if you follow any of our Social Media accounts. Before Christmas, we had a large delivery of smart new Vauxhall Combo Sportive L2's straight off the transporter and ready for our van hire customers to snap up.

Several of them were immediately reserved by Prescot based design, construction and fit-out company; Jennor Ltd. Before taking vans, Jennor had us arrange for their smart and highly distinctive company livery to be applied to the vans, which we were, naturally, delighted to do.

As soon as we opened up on our first day back, our very first delivery run of 2022 was to drop off all of these ultra high spec' Vauxhalls at Jennor's prestigious new office building on their smart new business park in Knowsley. With so many vans to drop off that morning, our Logistics team 'borrowed' a few helpers from both Westwood branches, including giving Chris Ellison, our Marketing Manager a rare trip out from behind his desk – here he is (below) handing over the last of the vans to Jennor's own Project Manager; Kieran Pyke.

Kieran also, very kindly sent us some additional pictures to make use of when he rearranged the vans later on, most notably the incredible shot pictured above..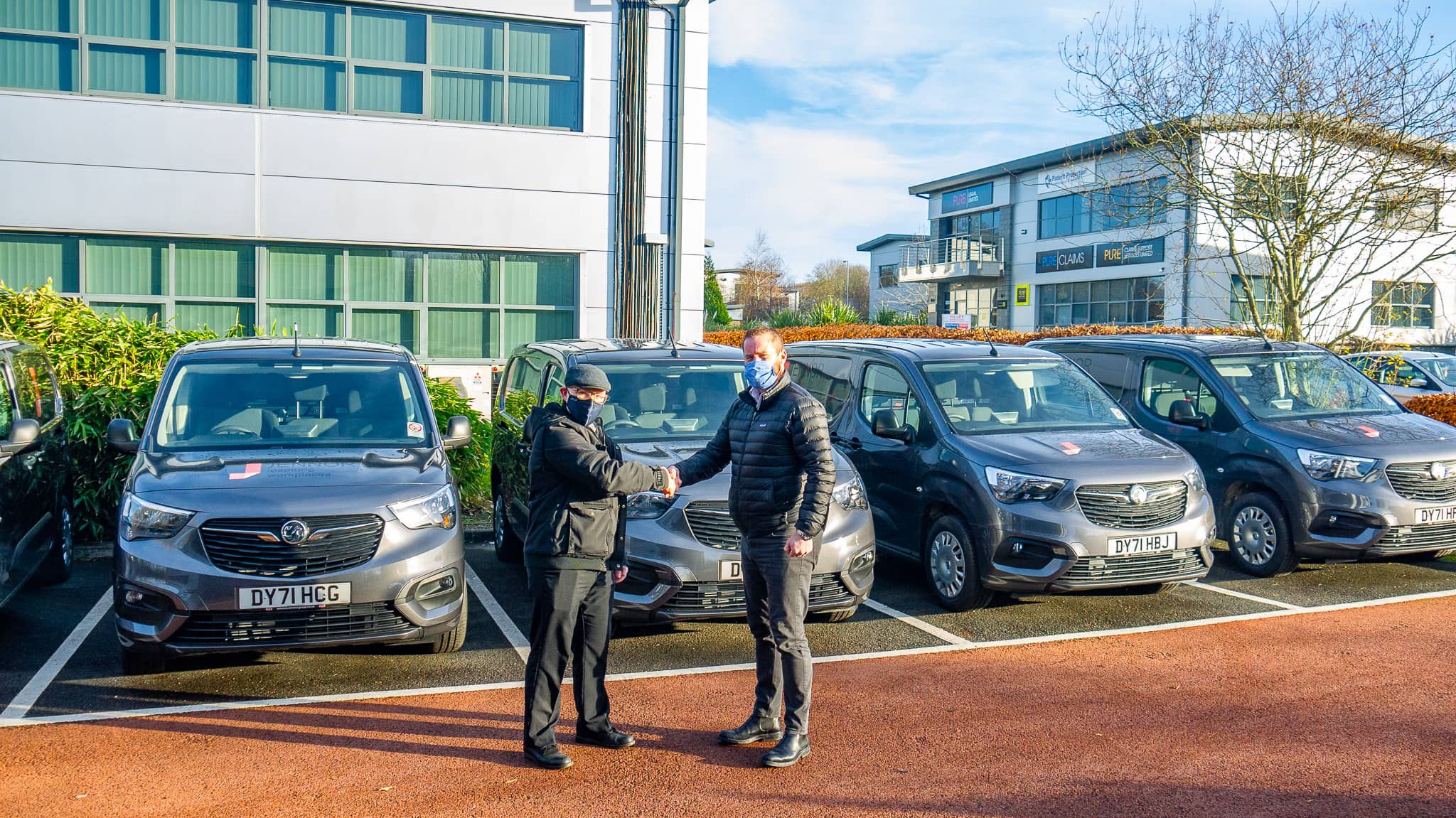 Who Are Jennor Ltd?
Not all interior spaces are created equal. We've all visited an office where the furniture is mismatched, torn and looks decades old. Where the paintwork is peeling and everything looks like its about to fall to bits. We've also all walked into offices where we're so wowed by the beauty of the interior space that we're tempted to ask if there are any vacancies and envy anyone privileged to be able to work there. Jennor Ltd are experts in turning the former into the latter and doing so on a grand scale.

With four decades of experience under their belts, Jennor are time served masters of their craft. If your view of contemporary design stops at the door of Ikea, then prepare to be amazed by their incredible work!
From Office Design, Design Consultancy, through to Construction, Project Management and complete office Fitouts, Jennor work with architects, investors, councils and more to bring incredible design flair to cavernous spaces and gargantuan projects.

Designing impressive business and office spaces is only half of what makes a well-designed workplace. Primarily, these spaces are hardworking and functional areas which are required to be used and practically lived-in daily. An office is there to be functional first, the form comes second and it's the genius of Jennor Ltd that they're able to combine elegance, with exceptional aesthetics. Making workplaces that aren't just a joy to look at, but also a joy to work in.

Form and Function is a tough combo' to pull off successfully, but with a new fleet of tough Combo vans at their disposal, Jenor will be turning up in the same style they leave behind them in their wake!

Leaders in the design, project management and construction of some of the most imaginative and striking spaces you'd happily donate a kidney to work in, Jennor have built an enviable reputation from handling multi-million Pound projects from huge names you'll have definitely heard of!

If you've ever walked into a grand lobby, or been impressed by the incredible design and aesthetics of a large office space etc, it's entirely possible that you could be looking at work by Jennor!

The Vauxhall Combo – It'll Surprise You!
When it comes to a small van that's far more spacious than you'd think, the range-topping Vauxhall Combo Sportive L2 is a smart choice. Based on the same chassis shared by the award winning Citroen Berlingo and others, Vauxhall has packed plenty into their take on the small van.

A modern van has a lot of demands placed upon it. It has to be hard working and reliable, (like any van since the dawn of time), but 21st Century van drivers also demand the modern conveniences and driving dynamics they'll find in their cars. Thnkfully, as the name suggests, the Combo does it all!

The top end version of the Combo wisely chosen by Jennor is the Sportive version for a raft of extra features and in L2 configuration so it's a little longer than normal.

Notable features include;
Metallic Paint
Twin side loading doors
Built in Sat-Nav
Cruise Control
Air Conditioning
Load Through Bulkhead
Reverse Parking Sensors
Fully Euro 6 Compliant
Plus lots, lots more!

We know these smart new vans won't look out of place supporting the work of this forward looking company which implements amazing feats of design on a daily basis and we wish them continued success with their brand new fleet.