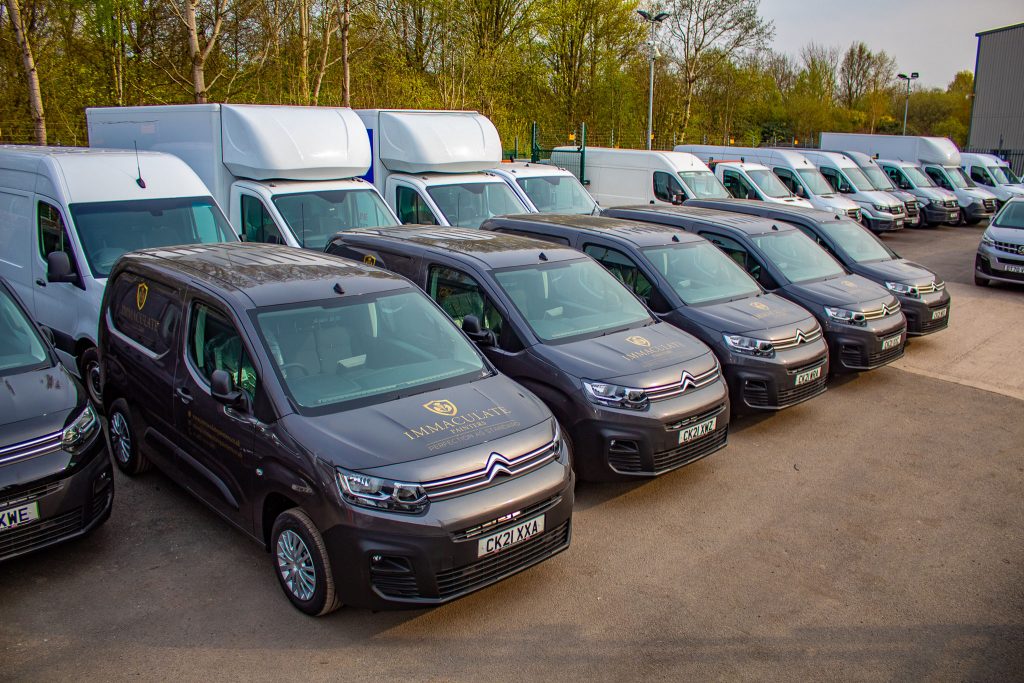 Having a name like Immaculate Painters speaks of a company setting the bar very high for itself in terms of quality and customer service. It's clear that everything about them exudes an impression of the highest standard of professionalism. So when nothing less than the best would do, we were delighted be asked to look after their van hire needs and to provide this fleet of brand new Citroen Berlingo Enterprise vans, supplied complete in Immaculate Painter's new and distinctly upmarket livery.
Immaculate Painting & Decorating – Specialist Painters In The NorthWest
Based in Warrington, Cheshire and part of the Immaculate Group, Immaculate Painting & Decorating serve the entire Northwest and beyond, providing a comprehensive range of non-structural refurbishing services for private residential customers as well as businesses and commercial clients.
With decades of experience providing contract services to the very highest standard and with a diverse portfolio of successful projects under their belt, Immaculate Painters are a highly successful and rapidly expanding firm you can rely on. When it comes to expansion, sooner or later you'll need to recruit more people and through their very own Immaculate Academy, Immaculate Painters invest in the future by bringing on aspiring youngsters. Training them up and giving them experience working alongside 'old hands' so that they learn the right way to do things right from the outset, giving them a full set of skills and the benefit of years of experience. It's a recipe for growth as well as providing opportunities, employment and a useful trade that will last aspiring painters and decorators a lifetime.
Class Leading Small Vans In Smart New Livery
Immaculate Painting & Decorating made a terrific choice when they selected the Citroen Berlingo Enterprise for their van fleet. This is an award winning small van which is packed full of features, easy to drive, terrifically efficient and with technology which is right up to the moment. We've provided them signwritten with Immaculate's brand new livery.
Newly updated, the livery is a great piece of design all by itself. Incorporating a slim serif font which subtly indicates traditional class and quality, combined with a contemporary sans serif strapline beneath communicating modernity too. The logo resembles a thistle, which itself represents nobility and with Craig (pictured) having traditionally Scottish surname, we'd imagine that might also have influenced using the thistle. The whole design is finished in gold which, naturally, adds to the feel of quality and opulence. It's great design is what we're saying and looks fantastic on these shiny black vans!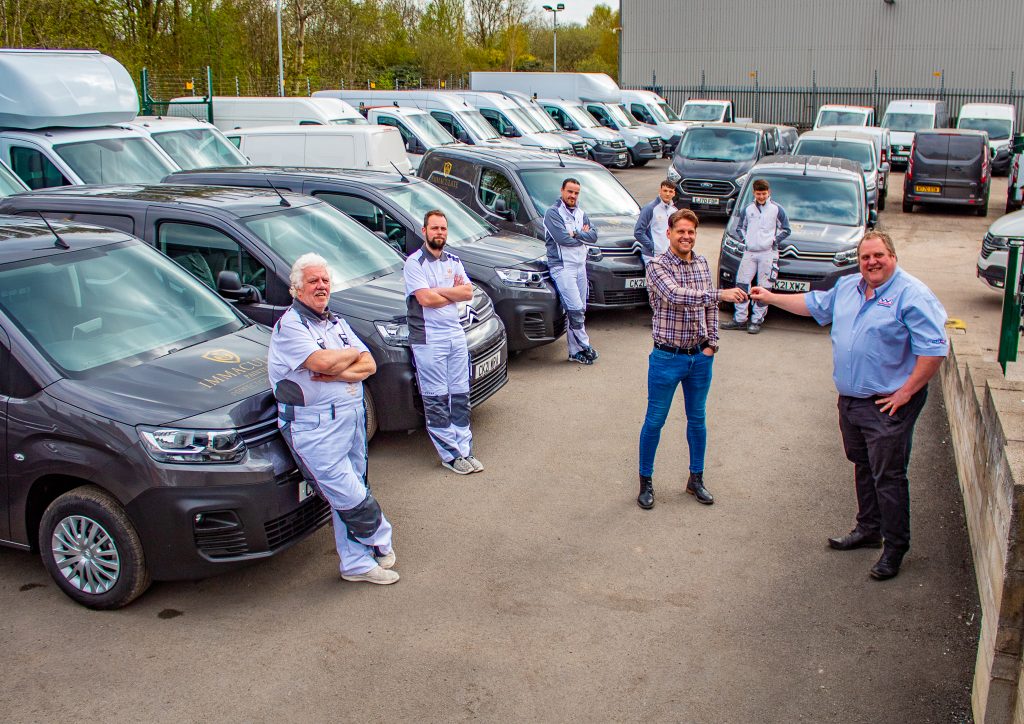 Here's Craig Macleod, Immaculate's Director and some of his team, looking smart in their branded uniforms, receiving the keys to their shiny new fleet from our very own business Manager Adam Jones.
We're looking forward to seeing how Immaculate Painters continue to grow and wish them every success!
If you've been inspired into following suit with a brand new, fully liveried fleet of your own, why not follow Craig's fine example and get in touch to find out how you could cut your costs and improve your image with vehicle hire from Westwood!