At Westwood, we always take great care to make sure we order in the very best rental vehicles at the very best prices, so when our car and van hire customers need a vehicle, they can drive away in something that already exceeds their expectations. Just occasionally though, we get asked to provide a var or car in a very particular specification. Naturally, we're just as happy to arrange for something specific just as was the case with this very special Audi Q7, for Andy of Infinitel Communications.
Infinitel Communications are a leading provider of Telecommunication Services, based in Wigan and serving the business community. Providing unrivalled expertise and unrivalled prices on Phone systems, mobile phones and internet solutions, they're a one stop shop for businesses of all kinds looking for industry leading communications solutions fit for the 21st Century.
The Difference A Rental Company Makes Vs. a Rental Broker
Andy, the Director of Infinitel, pictured here with our very own Business Manager Danny, had been let down in the past. He had his heart set on a brand new Audi Q7, he knew the specification and how much he wanted to pay for it. Having found a deal that met his exacting requirements, he placed an order with a rental broker at the start of the year and from there spent six months waiting and waiting. Only to be told, just over a month ago, that his Audi Q7 was all of a sudden 'not available'.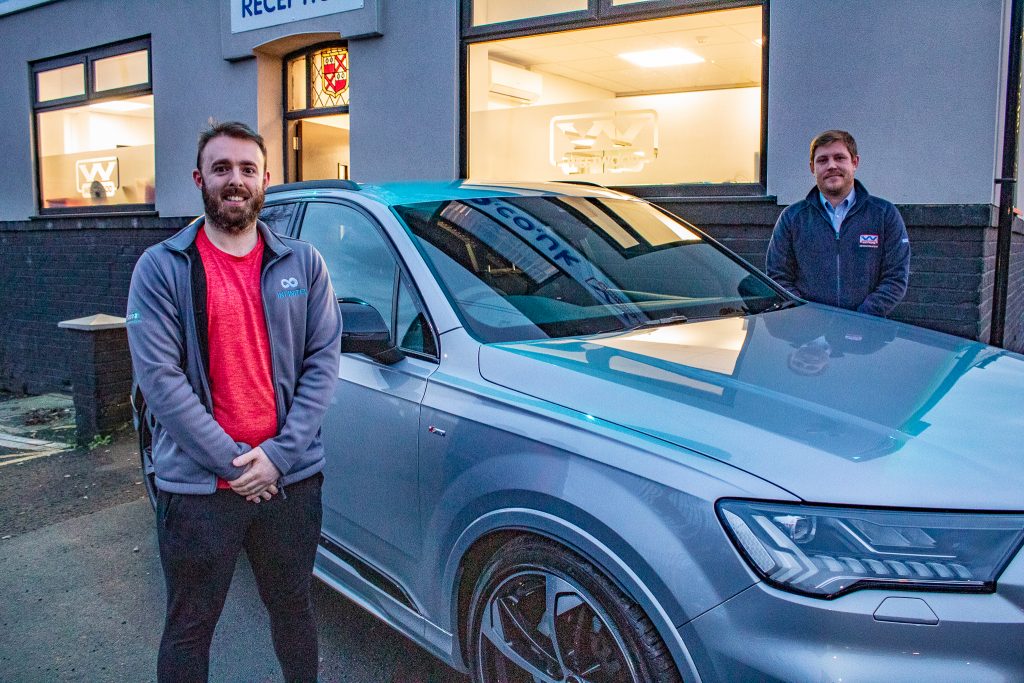 Andy came to us next and explained his situation. We were able to offer him a deal on the car he'd set his hear on and just four weeks later it arrived here fresh from Audi and he was able to pick it up soon after.
At Westwood, we're a rental company, not a broker, which means that rather than being just a 'middle man', we own every single one of the 2000+ vehicles on our rental fleet. We buy them at the best prices and can therefore pass on the savings to our customers. There's no middle man with Westwood, just great prices and great service.
Andy's Brand New Audi Q7
The Audi Q7 Andy chose is one we couldn't have picked better ourselves. He's gone for the Audi Q7 S-Line Black Edition, combining the latest technology, looks which simply ooze class and road presence, all powered by a 3 litre V6 diesel engine to propel this huge 7 seater forward. Unless, of course, when this mild hybrid isn't travelling on electric power. Bearing in mind that this is a huge, supremely opulent SUV for carrying up to 7 people in style and comfort, it's definitely not a sports car, but even so it can manage the sprint to 60 in a little over 7 seconds. Andy's spec'd this already generously equipped model with a few extra features of his own choosing, the optional Bose premium sound system being only one of them.
An Audi is always a thing of beauty and the Q7 is no different. The black edition brings with it a number of styling touches which add to the understated elegance you'd expect from any car with four rings on the grille. When it comes to style, less is more. The huge 21″ Alloy wheels blend perfectly into the look of the car and the LED Matrix headlights mean that you'll be dazzled by the looks not the high-beam.
Inside, the build quality, the attention to detail and the technology is all there, just as it should be. There are swathes of lush leather, glossy black plastics and metal accents all blending seamlessly with the controls. The driver of the Audi Q7 wants for nothing, neither do the passengers!
At Westwood, we pride ourselves on not only the best prices and the best vehicles, but the best service too. After what Andy had been through, Danny wanted to make sure we did better and to help him get into the car he wanted to drive. A car he now has.
If you've been let down in the past, why not get in touch and discover the Westwood difference for yourself. Cut your costs and improve your image with luxury car hire from Westwood Motor Group!