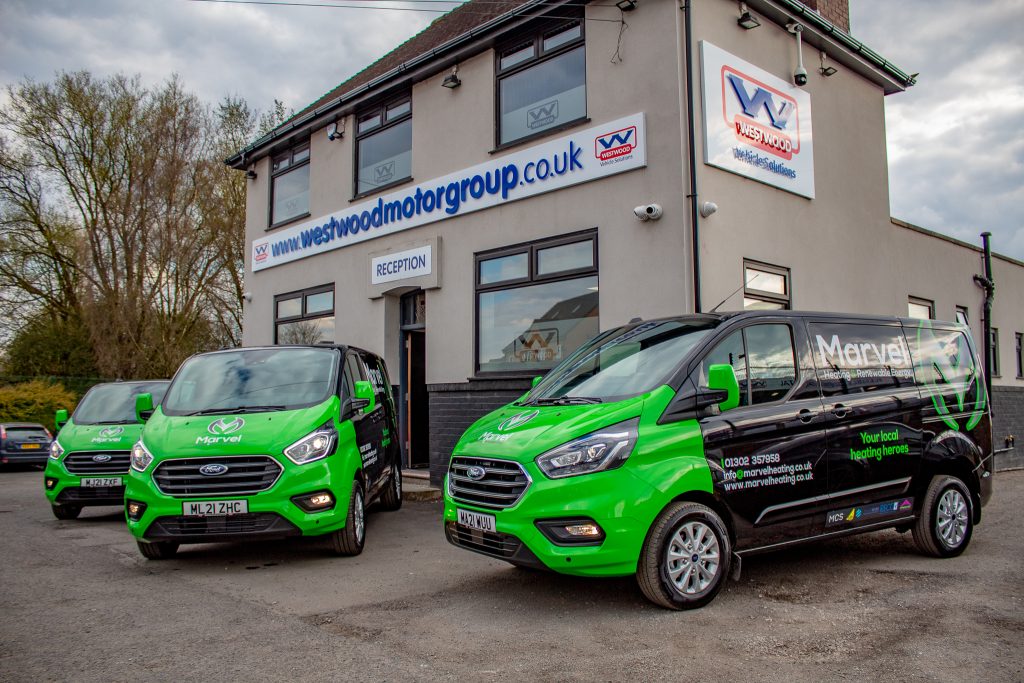 Fleet Van Hire Fit For Super Heroes
When it comes to saving the planet, Marvel Heating & Renewable Energy are real heroes and they've just taken advantage of our low cost van hire solutions with these smart and fully wrapped Ford Transit Customs as part of their complete re-branding. We think they look incredible in black and green, but without the Hulk-ing great bill you might expect for vans of this spec'!
Based in Doncaster, covering Yorkshire and from there, the rest of the country, Marvel Heating & Renewable Energy help people and businesses save money as well as the environment, while heating their buildings via a range of energy efficient heating solutions.
Far more than just your friendly neighbourhood boilerman, chief amongst Marvel's specialisms is the installation of Air Source Heat Pumps, which are the most energy efficient heating solution we're likely to see until Tony Stark's Arc Reactor becomes a warm light for all of mankind to share! Fit for the MCU, Marvel are fully MCS approved, so you can have confidence in the high standards of their service and their work – why not get in touch with them and make Marvel the Guardians of YOUR Galaxy?
Marvel's Marvellous New Vans
The Ford Transit Custom is the yardstick by which pretty much all other vans are measured. With over six decades of development behind it, it's no surprise that the Custom is the most popular van on the road and Marvel have chosen the range topping 'Limited' spec', complete with heated seats all round parking sensors, reverse cameras and a whole range of other features. If there was such a thing as a Ford Transit Custom Vibranium X, we reckon that'd be the only van more fully equipped!
We've arranged for full vehicle wraps in Marvel's strikingly distinctive green and black design, so all they needed to do was drive them and you'll definitely not miss these vans out and about! All part of the service here at Westwood!
Easy to drive, super efficient and packed full of technology, the Ford Transit is the perfect transport for YOUR uniformed superheroes and their equipment.
Why not get in touch and see what we can do for you and your business, we'll even give you full market value for your old van (or QuinJet) when hire a new one from us, so let us know if you've come to bargain!