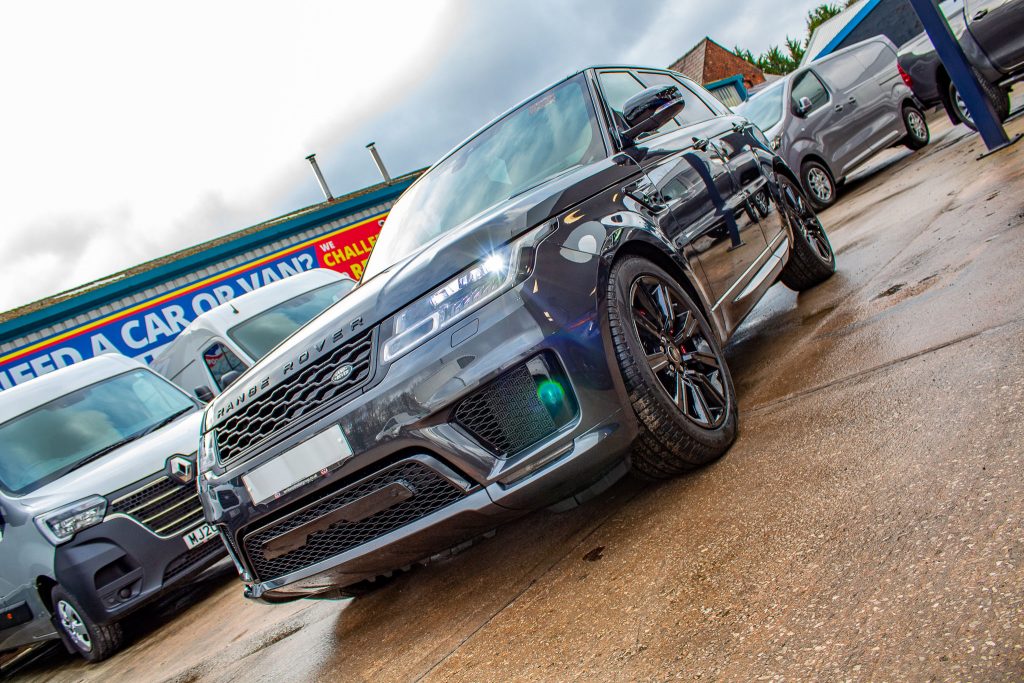 Choose Prestige Car Hire In The Premium SUV That Does It All!
When it comes to choosing a car that tells the world you're doing well for yourself, the Range Rover Sport HSE is probably right at the top of your rather exclusive shortlist. A clear favourite amongst our customers looking for the ultimate in luxury car hire, thanks to a combination of peerless image, strong brand appeal, even stronger performance and an all round package that doesn't just do absolutely everything you could possibly need a car to do, but excels at all of it. While looking absolutely sensational.
From the outside, the Range Rover Sport HSE provides an unmistakeable presence which is both imposing and understated. With an outline that's as elegant as it is iconic, there's no chance of it being mistaken for anything else. Inside the cabin, practicality meets unrivalled luxury as you get all prestige features you could ever need as well as some you didn't even know you wanted until you saw them for the first time. In a Range Rover.
The Range Rover Sport HSE is perhaps the ultimate all-rounder. Normally when you say 'Jack of all trades' it's closely followed by the words 'Master of none'. Not in this case though. This opulent behemoth does EVERYTHING well.
Need a large car with space for 5 large adults? Naturally. Need something ultra impressive to collect the CEO from the airport? Of course. Want something that'll outpace pretty much anything that isn't a sports car? Something that incorporates the very latest technology? A Car that leaves you more relaxed getting out than you were getting in? A car that doesn't just 'look' like like an off-roader, but can handle the harshest terrain and wade through mountain streams in conditions that'd leave lesser vehicles stuck in the mud? (You'll probably never do it, but you'll know that it could!) In short, the Range Rover Sport HSE is every car you could ever need and then some.
But what if you need a car that has good fuel economy, low emissions and tax efficiency? Well, believe it or not, the latest Range Rover can do that too. If you choose the all new petrol electric hybrid version.
The All New Range Rover Sport HSE P400e PHEV – Upgraded To Dynamic Black Specification
The whole world is going electric and with this in mind, Land Rover have produced this, the first Range Rover Sport you can plug in and run on electricity. A Range Rover however, is all about the ultimate driving experience, so, not wanting to introduce 'range anxiety' to a Range Rover, the Sport takes the hybrid route, rather than going full EV. It's capable of running on a battery and electric motors for a little while, but still retains a conventionally fuelled powerplant, which can either work with the electric drive system or by itself.
With petrol electric hybrids, fuel consumption figures can be pretty much whatever you want them to be. If you never use the battery, your mpg will be around the same as a non-hybrid Range Rover. If you keep you batteries topped up and never travel far enough to drain them completely, you might never use a drop of fuel, so you'd technically get 'infinite mpg'. Official WLTP stat's give the PHEV Range Rover up to 77mpg, but what you get will entirely depend on how you drive it.
For business users, then, the ultimate driving machine has suddenly become incredibly tax efficient, with the all important CO2 emissions being an ultra low 83 g/km.
There's no such thing as an 'entry level' Range Rover. Even the standard spec' version of the Sport is packed full of the kind of features that would be high priced options anywhere else. For our customers though, we make sure we order higher end versions of any vehcilce we have on our fleet and include the pick of the extra's list at no extra charge.
Available from Westwood, we have the Range Rover Sport HSE P400e Dynamic Black – features include;
21″ Style 9001, 9 spoke, Gloss Black Alloys
Red Brake Calipers
Upgraded Sliding Panoramic Roof
Matrix LED Headlights With Signature DRL
Privacy Glass
Extended Leather Pack
16 Way Front Seats With Memory
Meridian Surround Sound Audio
Navigation pro system with 10″ touch screen
This is only a small selection of the extensive range of features in this incredible luxury SUV and thanks to our latest 50 vehicle arrangement with Jaguar Land Rover, we're now regularly receiving Ranger Rover models, delivered brand new and available for immediate prestige car hire. For prices you simply won't beat anywhere!
For these and other luxury vehicles for hire, look no further than right here at Westwood. Based in Wigan, but delivering Nationwide. Cut your costs and improve your image today!