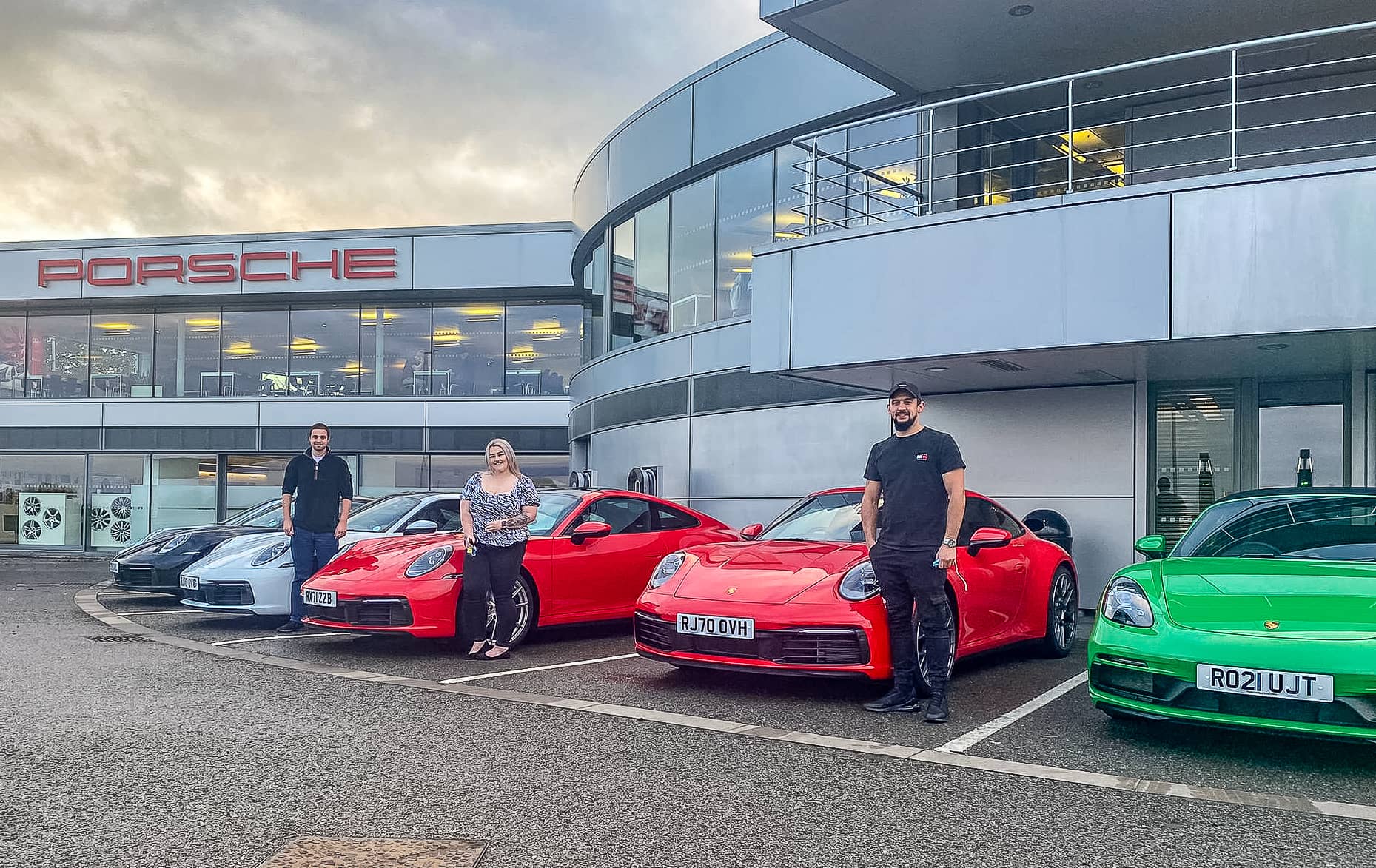 Team Westwood Takes To The Track
At Westwood, we work hard, but we play hard too! Going the extra mile for our vehicle sales, rental and contract hire customers is something that doesn't go unnoticed here. And when people do well, our MD Chris Melling is always delighted to reward the team with memorable events, evenings and experiences. So When a Porsche Experience day came up, some of the team were deservedly treated to a special trip!

We sent three of the Westwood team on an all expense paid Porsche Experience event down at the world famous Silverstone race track. Here's what they got up to!

Westwood's three Porsche Experience adventurers were; Vehicle Sales and Rental Executives Bethan Hurst and Matthew Fairhurst as well as our Head Technician Kieron Hough. Selected for the hard work and for what they've achieved for the company over recent weeks and months.

A Porsche Experience Day To Remember
Speaking to the team upon their return, it was clear they had a tremendous time on their high octane adventure. After all, who wouldn't enjoy tearing round a world famous racetrack, driving top of the range new supercars and being treated to unrivalled hospitality while so doing?
Our trio arrived at Silverstone's Porsche Centre and straight away they were whisked away to the Porsche Restaurant for a delicious three course meal.

After being suitably fed and watered, our team headed to the track for a 1 hour driving experience in some frankly stunning new Porsche sports cars. With expert drivers advising our team, they received expert tuition on launch control, driving in wet conditions, driving on ice and advanced braking techniques. Naturally, they also got to drive very VERY fast and we'd have been very, VERY disappointed in them if they hadn't!
Following their hour of advanced driving, our intrepid trio headed back for delicious afternoon tea before jumping back in their respective Porsches for another hour around the track.
Favourite Parts Of The Porsche Experience Trip?
WIth three different people, we couldn't resist asking each of our team what were their favourite parts of their trip.
Matthew was keen to say how much he enjoyed indulging his 'Fast and Furious' side learning to drift a Porsche at high speed (Bethan also pointed out all the donuts he was seen doing).

Kieron is well known at our Wigan branch for his unrivalled appetite. We still haven't worked out where he puts it all, but it's no surprise he mentioned how much he enjoyed the food over the weekend. Bethan echoed this, after all, when you're eating the same food as the racing drivers would eat, it's going to be top quality fare!
When asked about the actual driving bit, Kieron said his favourite part was the dragstrip – his car for the experience was a Porsche 911 Turbo Carrera 4s, just like the Porsche driven by our MD until just recently.

There's a surprising amount of knowledge required for drag racing – naturally launch control is involved, but Kieron explained that being able to go from 0-60 in 4.2 seconds, means that you also need to be able to stop in half that time. Kieron elaborated and told us that he'd been coached by Yurgen from Germany who'd been absolutely fantastic and explained that part of the safe process of precision braking from 60mph to 0 (in 2.1 seconds) and stopping within marked cones, necessitates releasing the steering wheel and holding your arms in an x in from of your chest. Fail to do this and should a crash happen, you'd risk breaking fingers, hands and/or shoulders if you attempted to hold onto the steering wheel! We can only imagine the 'reverse g-force' felt in that kind of deceleration!
Porsche Experience Epilogue
After an exhilarating day in high powered cars, Kieron, Bethan and Matt head into Silverstone Village and spent an evening unwinding together at the White Horse Silvertone pub. Bethan in particular wanted to make sure the pub got a mention by name because of the way she felt the team there looked after our three. This had nothing at all to do with the jug of lemonade and bottle of Peach Schnapps she can be seen holding in the picture!

The three have since returned to work with smiles on their faces and possibly slightly heavier right feet!

We like to think we provide an incredible experience for our customers when it comes to vehicle solutions, but for the amazing team members who provide that experience, we're proud to be able to give them rewards which reflect the tremendous value they bring to the business. Well done Kieron, Matthew and Bethan for earning your well deserved Porsche experience!