The Volkswagen Crafter is a firm favourite amongst our fleet van hire customers and at Westwood, we provide only the best versions of this stylish and dependable workhorse.
From Startline model, with the business pack added as an optional upgrade, through to the Trendline models with their enhanced specification, we have the Crafter to suit you and your business. Automatic gearboxes, Sat-Nav, Parking Sensors, Cameras are either available as options, or fitted as standard depending on the model. Medium, long and extra long versions are also available, so don't be afraid to ask us for what you need.
Beyond The Good Looks – Large Van Hire
Just by looking, you can see that the Crafter is a great big, good looking van from one of the big German brands whose engineering prowess already inspires confidence and given that it's won the Parkers Van of The Year award for three years running, you know you're getting something extra special.
The latest model of the Crafter, is one of the newest designed vans on the road. You may or may not know that, VW Crafters and Mercedes Sprinters (which we also have available for hire) used to be assembled alongside one another for years.
Since 2016 however, that agreement between VW and Mercedes ended and Volkswagen moved their big van production to their own facilities. Building the factory from scratch and redesigning the Crafter from the ground up. Both the factory and the design team taking full advantage of the latest technology and production methods. This has resulted in one of the most advanced vans on the road, even the engine is new.
On the surface, this might be just another big, albeit modern looking panel van, but, it's what's inside that counts and the crafter's utilitarian exterior belies just how impressive a job VW's boffins have done when creating their latest big van.
Obvious stuff first. It's HUGE. It might not be the most interesting bit of the crafter, but it's amongst the most important. You get a van to move things around and are probably keen to know just how much stuff fits in the back.
Thankfully, that answer is lots. Lots and lots of stuff.
Even the standard length Crafter which has an internal load length approaching three and a half metres. Get the high roof version and the ceiling is a touch over 1.8 metres from the floor, allowing you to pack plenty in and stand upright inside.
Naturally, Crafters come in a variety of longer and taller variants as well as varying levels of equipment and as always, you can rely on us to stock the pick of the range right here at Westwood.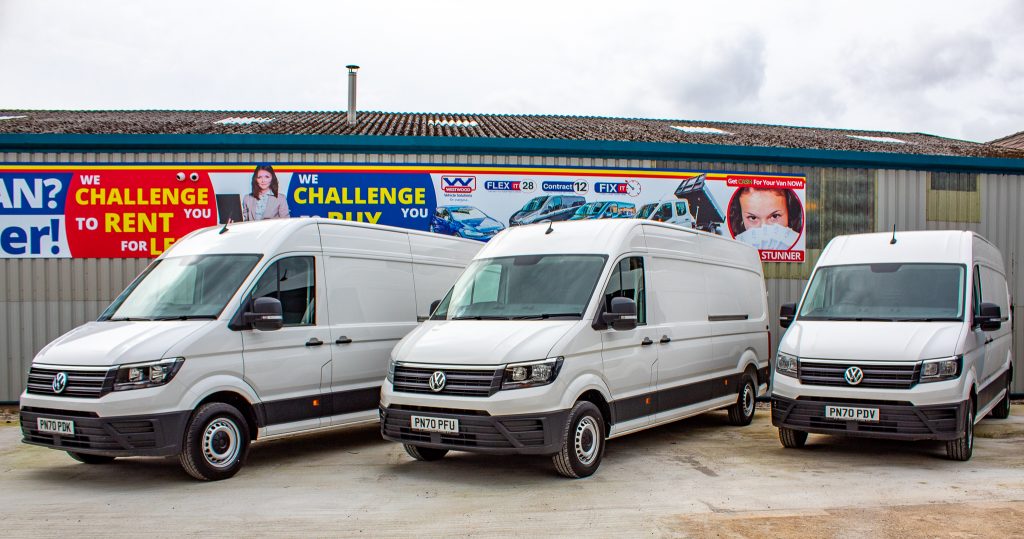 Inside the VW Crafter Cabin
Given the opportunity to wipe the design slate clean, VW have really gone to town on the new Crafter and it shows. A whole lot of thought has been put into every aspect of this new van.
It's obvious that VW have made a sincere effort to understand and to cater for the needs of the people who drive their vans, rather than just catering to the needs of the fleet managers, who buy vans but might never sit in one. Both sets of needs are capably accommodated by the new Crafter.
The cabin is very definitely, unmistakably, a Volkswagen, even without the big shiny logo on the steering wheel.
Volkswagen always do a great job laying out their dash and controls in a logical manner and there's no difference in the Crafter. There's a clear quality to the materials and feeling of solid durability throughout.
The large touchscreen takes pride of place in the middle of the dash and is slick and responsive. It does a great job of reducing glare even on sunny days too.
There's all the usual features you'd expect and anyone who's driven any reasonably recent Volkswagen car or van will be more than familiar with the layout. There's DAB radio, controls for connecting bluetooth devices, various vehicle options and with upgrades, many of our Crafters have front and back parking sensors. There's a stylish visualisation the moment you hit reverse gear, accompanying the usual audible beeps.
In appearance, the whole interior is a larger version of the VW Transporter. Just like its smaller stablemate, it's light and airy, with a premium feel and has loads of shelves, cubbies and storage for all of your travel essentials. The inside of the glove compartment conceals a pair of SD card slots (one of which is used by the satnav where available) and a CD drive.
There are three front seats, and thanks to the dash mounted gear stick, the middle passenger isn't going to be sitting crookedly or complaining about knee room. In our video, you can see that the van used has the 8 speed automatic gearbox as an optional extra, but the standard 6 speed manuals are also available for those who like to change our own gears.
If you don't have a middle passenger, then the middle backrest can serve as a makeshift desk or dining table and just goes to show how much thought has gone into looking after van users.
Most vans with a central table like the crafter have some kind of pull, or lever to unlock the seatback to allow it to fold forward. Normally, you'd have use both hands for this; one to pull the lever and the other to pull the seat forward. In the Crafter however, pulling the release tips the seat a little, you can then let go and push it the rest of the way. Once you're done with your table, pull a second time and once again there's a little movement to keep it unlocked and you can let go and push the seat back in place. It's super convenient and allows one handed operation.
The table itself adds two more cupholders to those already in the dash and there are a couple of slots for either your pen, or for keeping a clipboard, phone or tablet secure in an upright position.
Under the passenger seats, there's a large, useful space to conceal your gear out of sight within the cabin.
No modern vehicle these days will be without somewhere to charge your electronic devices and the Crafter is no exception. There's a 12v standard socket in the middle right where you'd expect it to be and there's another to the left of the dash. The drivers side of the dash has a standard USB socket and an auxiliary audio socket for linking the driver's phone up to the infotainment system and making use of the Apple Carplay/Android auto functionality.
If you've not driven a big van for a while, or maybe you've not driven one at all, you might be surprised at just how car-like pretty much all vans are these days. In fact, if you have a car that's more than a few years old, you might well find that a new crafter has more in the way of technology than your everyday set set of wheels.
As mentioned before, even the Startline model, has a whole lot of really smart high-tech electronic bits and pieces included as standard. Many of these though aren't as obvious as others.
The power steering for example. Just like the Mercedes Sprinter, the new Crafter has moved from hydraulic to electric power steering. This doesn't make a huge difference to the feel on the road, but it does open up the door for your Crafter to take a more active role in helping make your drive safer. Crosswind assist, help to keep you in lane, as well as emergency automatic braking are all made possible by the new system.
Out on the road, the Crafter is exceptionally easy to manoeuvre. The steering is light and precise.
Large Van Hire – Rent The VW Crafter
If you're looking for a large van that drives well, looks well and is easy to live with, then the new VW Volkswagen Crafter might just be the van for you and you won't find better prices than we offer right here at Westwood. As ever, we challenge you to rent for less.
Don't forget, if you need sign writing, or accessories like towbars, roofracks, internal racking, or beacons etc, we can get those arranged for you so all you need to do is drive it away.
The Crafter is an incredible, award winning van and it's already extremely popular, especially with fleet users thanks to it's cost effectiveness and premium appeal.
Of course, as we're not tied to any particular manufacturer so it goes without saying that other large vans are available at prices you simply will not be able to beat.
For Brand new, high spec' vans, cut your costs and improve your image with Westwood Motor Group, right here in Wigan