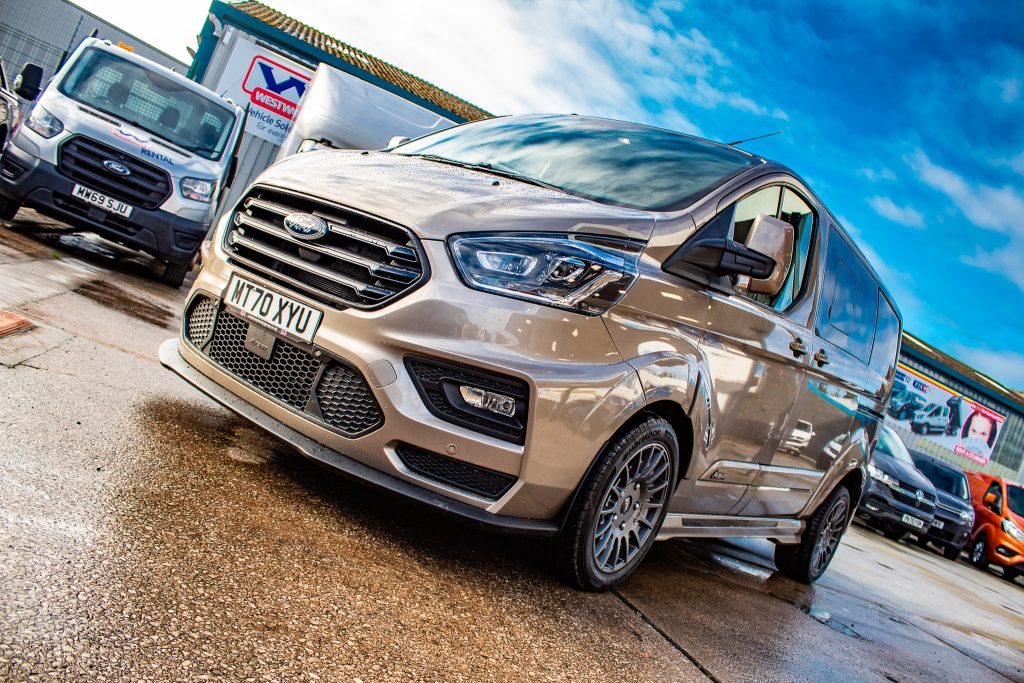 The Ford Transit Custom MS-RT – The Van That Thinks It's A Rally Car
If you've ever wondered what would happen if a company of pedigree motor racing engineers get hold of a Ford Transit Custom, then wonder no more – here's what you get, the Ford Transit Custom MS-RT. A special edition built in strictly limited numbers. It's BEYOND top of the range!
We could ask if this the BEST looking van you've ever seen, but it'd be a rhetorical question – of course it is! But don't take our word for it. Within hours of the van pictured being delivered, it'd been spotted and snapped up by one of our regular van hire customers, who'd come here for something else entirely!
Don't despair though, despite being a limited edition, we have more of the Custom MS-RT Transits on the way, but we expect them to be snapped up just as quickly, so get your enquiries in sooner rather than later or risk missing out on this truly special version of the all conquering Transit Custom.
What's Different About The Custom MS-RT?
The Transit Custom MS-RT is one of the most visually striking vans on the road. But in this case, the beauty is more than just skin deep. If you were wondering, MS-RT is an acronym for 'M Sport Road Technology' who are the outfit deeply involved with the official Ford World Rally Championship team. You might have already noticed that the bodykit on the MS-RT more than resembles that seen on the Focus RS and Fiesta RS rally cars. The body kit has been custom moulded in MS-RT's own factory in Wales and it matches the quality and finish of Ford's own panels.
MS-RT don't just take a top of the range Transit Custom and add their own body-kit though. You'll notice the extra large rally wheels, the twin exhaust, the splitter and the spoiler, you might have also noticed the Custom MS-RT sits slightly lower to the ground, thanks to the specially commissioned suspension springs, which have less travel without compromising the Custom's ability to transport cargo. It IS still a commercial vehicle after all.
Take the van in the photo's. It's got pretty much every feature you could possibly want in a vehicle. Ford's incredible Sync3 infotainment system, with Apple Carplay and Android Auto. Built in SatNav, Cruise Control, front and back parking sensors as well as a rear parking camera and Ford's slick Automatic Gearstick. It's a crew cab too
You'll notice that, as well as all the technology that makes a top of the range Custom such a great van, the materials on the seats have been totally replaced with suede and leather, with contrast stitching. Each seat deeply embossed on the headrest to leave you in no doubt of the van's rallying heritage. This is a crew van, so all 5 seats have this premium feature. Keep an eye out for the shiny chrome plate engraved with the van's number within the limited MS-RT production run sitting proudly in the driver footwell.
For us though, the absolute best feature of the MS-RT's interior is the utterly brilliant, chunky, flat bottomed steering wheel. It's hard to express in words just how incredible it is, other than to say it's the single most ergonomically tactile steering wheel we've ever encountered. Bear in mind we had a Lamborghini Urus parked in front of the office a few months ago! Yep, we said it, better than a Lambo', THAT's how good the steering wheel is!
The Ford Transit Custom has alwas been one of the most car-like vans on the road when it comes to driving dynamics and the Custom MS-RT is the best Custom yet in terms of handling. You don't usually get a van because it's an engaging drive that's fun round the corners, but, this extra special Custom handles so sweetly, you won't want to get back into your car!
Available For Van Hire In Wigan
If you've been captivated by the looks and can't wait to get your hands on one of these utterly incredible Ford Transit Customs, you'll have to be quick. We're getting more in, but with their numbers being strictly limited, you'll have to move fast or risk missing out.
Available for contract hire, flexible hire and fixed term hire, these eye catching and exclusive vans are the absolute best version of the already brilliant Ford Transit Custom and guaranteed to turn heads wherever you go.
Cut your costs and improve your image with Westwood!