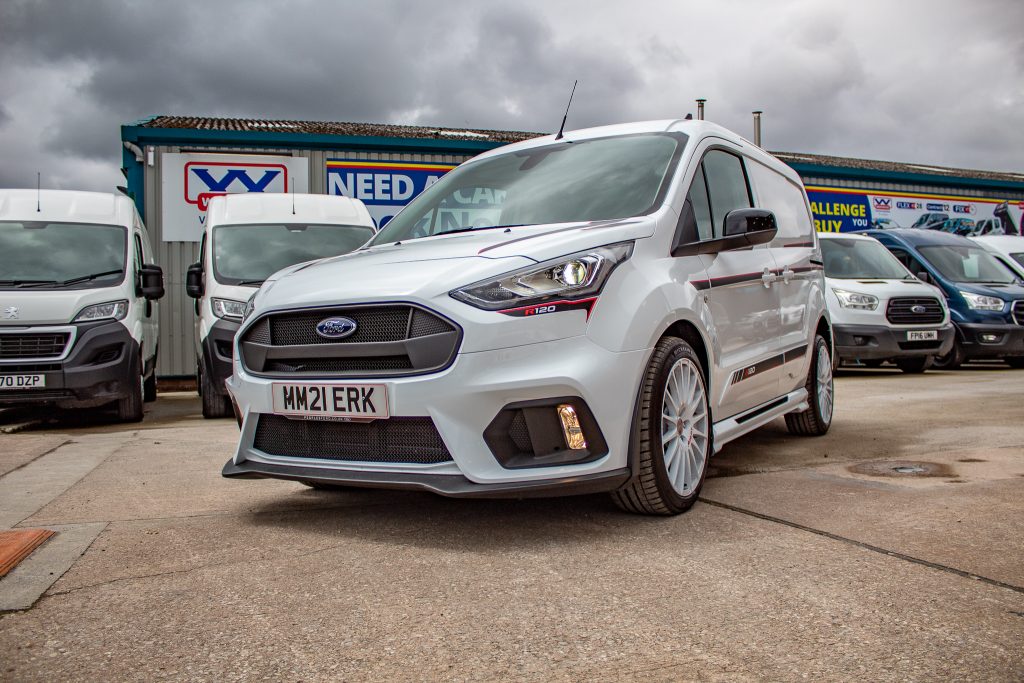 The Ford Transit Connect MS-RT is another utterly bonkers van from Ford's Welsh rally team partners. Produced in strictly limited numbers the Connect MS-RT is a special edition van, beyond top of the range, and available here for van hire in Wigan just like the Transit Custom MS-RT we've featured previously.
One of the smallest vans in the Transit lineup, the Ford Transit Connect has a footprint no larger than a regular car and driving dynamics to match. Think of it as a car, with no rear seats and an extra large boot. Unless you go for the crew cab version of course!
The MS-RT version however, takes a top of the range Ford Transit Connect Limited and enhances it further with custom blown body kits and sports styling. Don't be fooled by aftermarket cheap kits. The plastics and production methods used by MS-RT's Welsh Wizards are a match for Ford's own exacting standards. Indeed, MS-RT were the first company in the whole of Europe to achieve Ford's QVM status (Qualified Vehicle Modifier), making them officially recognised as being on par with Ford's own production methods. This is important as it means that Ford's warranty is unaffected by MS-RT's spectacular kit!
No matter what angle you view it from, the Transit Connect MS-RT is a stunning piece of kit. There are front and rear, rally inspired custom splitters and spoilers, 18" OZ Racing alloys with premium tyres and a glorious quad exhaust system. The 'wow' continues inside with seats hand finished in suede, nappa leather and contrast stitching. There's a premium kit case containing exclusive MS-RT extras, but, just like the Custom MS-RT, our favourite feature is that chunky contoured steering wheel, which features extra carbon fibre design elements and fits into the hand better than any steering wheel we've ever encountered. Throughout, the MS-RT logo and branding is prevalent
Otherwise, it's got all the same features as a top of the range connect, which is, in itself, a pretty special, class leading van, with more features than you'd expect from a luxury German car.
As you can see from the photo's, the Transit Connect MS-RT is a real head turner. What you can't tell from the pictures is the way it sounds. Trust us, heads will be turning long before anyone sees you coming and we challenge you not to grin manically every time you hit that start button, or rev it just to listen to it growl. Bystanders will hear you before they see you and will be expecting a supercar, or a rally car. Imagine their surprise when a van turns the corner instead. They'll keep looking though! This van undeniably commands attention, so it's definitely not the thing for arriving incognito – shy drivers may wish to choose something else for their van hire needs!
If you'd rather NOT go quietly into that good night, the spectacular, noisy, glorious Ford Transit Connect MS-RT might well be for you. Naturally, like all the best vehicles, it's available to hire right here at Westwood. But given the strictly limited production run though, don't delay if you want one!