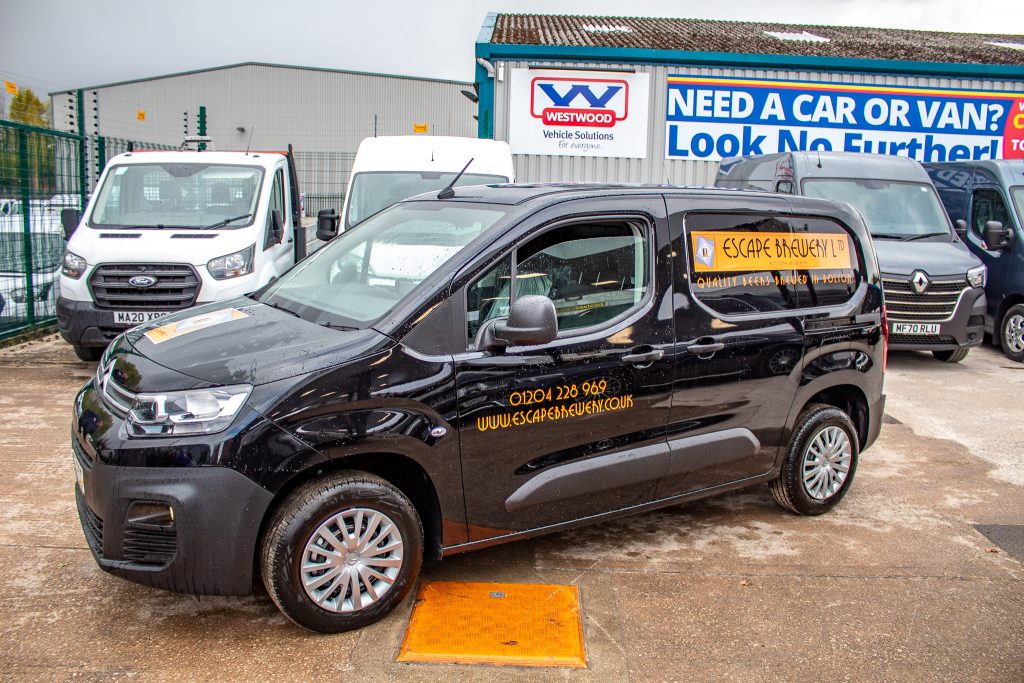 One of the most interesting aspects of running a van hire fleet is the diverse variety of businesses who hire vehicles from us and the uses they're put to. So when Escape Brewery got in touch to hire a brand new Citroen Berlingo in order to make door to door deliveries, we were interested to find out more!
Escape Brewery are based in Westhoughton, Bolton and having recently relocated to this new site, have made the inspired choice, while the pubs have been closed, to offer their freshly brewed craft beer of distinction in a 5 litre 'bag in a box' format, with 10 litres available by special order, they'll even deliver it to your house! During lockdown they've even been getting experimental with small batch beers labelled 'Escapee' followed by a number. Some of these experimental brews may well make it into full production, but you'd be well advised to sample them all just in case! While you haven't been able get to the pub, Escape Brewery have taken the initiative and brought the pub to you! This new endeavour has proven massively successful for this proudly local Bolton based micro-brewery, so much so that they can barely keep up with the demand!
The Birth of Bolton's Newest Brewery
If you've ever bought a distinctly average bottle of beer from the supermarket and wondered if you could do better yourself, then you'll be starting down a similar path to where Phil, Escape Brewery's founder began his beer making journey. After experiencing a day with a brewer in Derbyshire, Phil along with his friend and colleague spent the following two years brewing beer in Phil's garage and when Adam joined the team, this trio of craft ale enthusiasts saw the opportunity to escape the drudgery of their day jobs and turn a passion into a career. This being the reason Escape Brewery is so called.
With the first commercial beer being sold in 2019, Escape has gone from strength to strength and at the start of this year, despite the pandemic, moved from Phil's garage, to their new Westhoughton site, with plans to Escape beyond their Northwest fanbase and bring better Bolton Beer to everyone who enjoys a proper pint.
With support from GC Business Growth Hub, Escape Brewery were able to successfully apply for and secure a COVID-19 Small Business Recovery Grant which allowed them to lease one of our vans and perform their own deliveries without relying on a third-party delivery service. It's worth knowing that even though applications for these grants are now closed, there are other funding opportunities available through the Hub, including an Energy Efficiency Grant. In addition to funding, businesses across Greater Manchester can access expert one-to-one and peer-to-peer business support, events as well as a range of specialist programmes. You can visit their website to find out how they can help your business: businessgrowthhub.com
The Citroen Berlingo Enterprise Escape Brewery have chosen, is a deservedly popular small van which, despite its small footprint is deceptively spacious both in the cabin and behind the bulkhead. There are three seats up front and thanks to the electronic and brake and dash mounted gearbox, even the middle seat is comfortable. With reverse sensors, Android Auto/Apple Carplay and a smart full featured touchscreen as well as super intelligent use of every inch of space, it's no wonder the Berlingo is a past winner of the Van of The Year award. We've also arranged Escape Brewery's smart livery to be applied to the van, which looks phenomenal against the shiny black paintwork. Here's our very own Logistics expert Les Edwards on his way to drop off this brand new van (pictured below with Adam of Escape Brewery). Keep an eye out for this van doing the rounds and get in touch with them to make sure they stop at your front door!
Escape Brewery have been able to keep themselves going during lockdown and get ready for the expected surge in demand which is now just days away as more lockdown restrictions are lifted. Escape have ramped up production to meet this demand and If you're very lucky, they'll be supplying your local pub ready for reopening from Monday. If not, you can still order their 5 litre or 10 litre boxed bags of beer for home delivery!
If there's one thing we've missed over the course of the pandemic it's being able to go for a proper pint. With the Westwood head office being itself a converted pub, it's a daily reminder that we haven't had a decent pint in ages! With everyone looking forward to getting back to some level of normality over the coming weeks, the prospect of ordering that first glass of pure nectar is getting so real we can almost taste it!
If you can't wait, book yourself a bag in box beer from Escape!